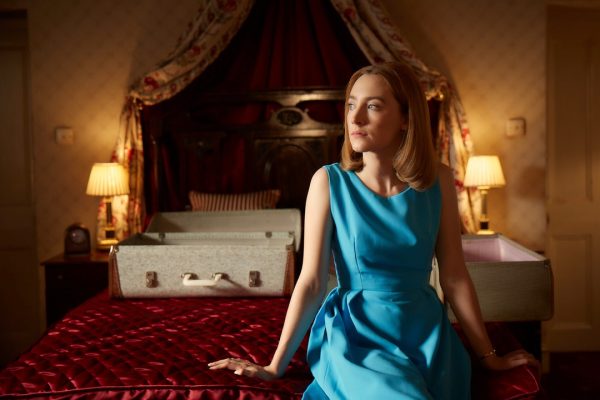 The Ashland Independent Film Festival will announce its 2018 film and event lineup at their Festival Preview Night at 7 p.m. Tuesday, March 20 at the SOU Music Recital Hall in Ashland. This is the first chance to see clips from festival films, pick up the Pocket Guide, and get insider information on special guests and new events for AIFF2018. This event is FREE, and open to the public. Doors open at 6:30 p.m. There is a suggested donation of $10.
The five-day, five-night festival will run April 12-16 in several venues across Ashland and for the first time in Medford. "This year's festival will include some very special guests, live performances, media art installations, and several major upcoming film releases. I look forward to unveiling our exciting lineup to the familiar and new faces that fill SOU Music Recital Hall every year" said Richard Herskowitz, AIFF Artistic and Executive Director.
The festival's selections include more than 100 films that were chosen from more than 900 documentary, feature, and short films submitted to the festival, or specially selected by Herskowitz. The entire program, including information about show times, live performances, filmmaker discussion panels, and children's programs, will be available online at ashlandfilm.org beginning March 21.
Tickets go on sale to members on March 26 and to the public on April 1. Tickets can be purchased online from ashlandfilm.org or in person at the kiosk located on the downtown plaza in Ashland. Film prices are $14 for adults, $13 for seniors and $6 for students.  There are various prices for events, including many that are free.  Details about ticket prices and box office hours are online.
Here's a sneak peek at 10 films and special guests coming to the 17th annual festival.
LEAN ON PETE
Narrative Feature
From acclaimed filmmaker Andrew Haigh comes a story about love, loneliness, family, and friendship. Fifteen-year-old Charley and his single father Ray arrive in Portland, Oregon, looking for a fresh start. As Ray descends into personal turmoil, Charley finds acceptance and camaraderie at a local racetrack 'where he cares for an aging racehorse named Lean On Pete. The film costars Steve Buscemi and Chloe Sevigny as the horse's gruff owner and seasoned jockey.
THE LAST HOT LICK
With guests Mahalia Cohen (director) and Deborah Cohen (producer)
Narrative Feature
Jack Willits is a washed-up musician on a never-ending tour, desperate to recapture the fleeting fame he experienced in the 1970s. When he meets a mysterious woman, he believes her beautiful voice can be the key to his success. Shot entirely in Oregon and Southern Washington, THE LAST HOT LICK is a fictionalized account of real-life singer-songwriter Jaime Leopold, the original bassist in the band Dan Hicks and His Hot Licks, and his late-in-life quest to rekindle his musical career.
THE RAINBOW EXPERIMENT
With guest writer and director Christina Kallas
Narrative Feature | Oregon Premiere
Things spiral out of control in a high school in Manhattan when a terrible accident involving a science experiment injures a student. Told from the shifting yet intertwined perspectives of parents, teachers, students, and school officials, this propulsive film takes you on a wild ride. The film premiered at the 2018 Slamdance Film Festival.
ON CHESIL BEACH
Narrative Feature | Oregon Premiere
Adapted by Ian McEwan from his bestselling novel, the drama centers on a young couple of drastically different backgrounds in the summer of 1962. Following the pair through their idyllic courtship, the film explores sex and the societal pressure that can accompany physical intimacy, leading to an awkward and fateful wedding night. The film stars Saoirse Ronan, Billy Howle, and Emily Watson.
MINDING THE GAP
Documentary Feature | Oregon Premiere
Minding the Gap is a profound, original, intuitive nonfiction film that breaks down the walls of documentary to tell a story about three kids, now men, who bond together over skateboards and volatile, distant families. DIY skateboarding videos shot by filmmaker Bing Liu as a teenager merge with new footage of his longtime friends. Premiered at the 2018 Sundance Film Festival.
CRIME + PUNISHMENT
Documentary Feature | Oregon Premiere
Amidst a landmark class action lawsuit over illegal policing quotas, CRIME + PUNISHMENT intimately observes the real lives and struggles of a group of black and Latino whistleblower cops known as The NYPD 12 and the young minorities they are pressured to arrest and summons in New York City. Premiered at the 2018 Sundance Film Festival.
THE KING
Documentary Feature | Oregon Premiere
Director Eugene Jarecki takes Elvis Presley's 1963 Rolls Royce on a sprawling musical road trip that explores the failed promise of the American dream. Ordinary citizens and celebrities ride along, singing or talking about what Elvis meant to them, framed by eloquent commentary from Van Jones, Chuck D, and Canadian Mike Myers. Scenes of 20th century America's political landscape are interspersed with archival footage showing Elvis' rise from humble beginnings to his increasing isolation, depression, and mortifying death.
SAVING BRINTON
With guest subject Michael Zahs
Documentary Feature | Oregon Premiere
When an eccentric collector, Michael Zahs, discovers the showreels of William Franklin Brinton, the man who brought moving pictures to the Heartland, he begins a journey to restore the legacy of America's greatest barnstorming movieman and save these irreplaceable cinematic treasures from turning to dust. Michael Zahs will follow the film with a live demonstration of an early Magic Lantern (a precursor to the film projector), featuring some of the rare slides from the Brinton Collection.
SHAKESPEARE WALLAH
With guest director and 2018 Academy Award winner James Ivory
Narrative Feature
Elegiac and atmospheric, SHAKESPEARE WALLAH was the feature film that put Merchant Ivory Productions on the international movie map. Starring Shashi Kapoor, Madhur Jaffrey, and a young Felicity Kendal, the film's inspiration lies in the real-life adventures of Ms. Kendal's family as a traveling theater group in India during the final days of English colonial rule. This film will be followed by a conversation and Q&A with director James Ivory and Bill Rausch, Artistic Director of the Oregon Shakespeare Festival.
A TUBA TO CUBA
With guests T.G. Herrington (director) and Nicelle Herrington (producer)
Documentary Feature | Oregon Premiere
The leader of New Orleans' famed Preservation Hall Jazz Band seeks to fulfill his late father's dream of retracing their musical roots to the shores of Cuba. Join the band as they traverse post-embargo Cuba in search of the indigenous music that gave birth to New Orleans jazz. Encounters with some of Cuba's most iconic musicians lead to spontaneous and soulful collaborations. Premieres at the 2018 SXSW Film Festival.
About Ashland Independent Film Festival
The Ashland Independent Film Festival is a widely recognized and highly regarded film festival, screening 100-plus independently made documentary, narrative, animation, and short films at the Varsity Theatre, the Historic Ashland Armory, and the Ashland Street Cinema each April. The festival has been praised by filmgoers for the intimate access it affords to filmmakers, and by filmmakers for its warm and intelligent reception given to the filmmakers. The National Academy of Motion Picture Arts and Sciences and the National Endowment for the Arts have each awarded AIFF with rare festival support grants. The 17th annual festival will be held April 12-16, 2018.