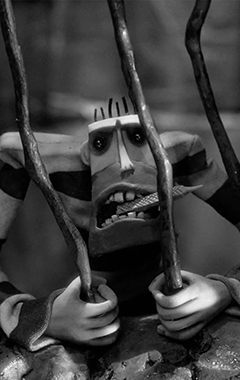 HouseSpecial took home the award for Best Picture at the We Like 'Em Short Film Festival held on August 17-20, 2017 in Baker City, Oregon. Aaron Sorenson wrote and directed the winning stop-motion film, Jailbreak, which was shot in black and white. The story follows the daring escape of a desperate prisoner fleeing his nightmarish cell in pursuit of sweet punishment. The design is German Expressionist-inspired, but with a decidedly adult twist.
"Everything about Jailbreak is perfect – beautifully shot, perfect timing and hilarious. The selection committee loved every second of this film and we'd love it as a feature length film," Brian Vegter, the We Like 'Em Short Festival founder and organizer, said.
"I wanted to create a unique, funny short that pushed the look and style into something unlike anything the studio had done before," Sorenson said. He was inspired most directly by silent films such as The Cabinet of Dr. Caligari and The Golem and prison break films such as Escape from Alcatraz, I Was a Prisoner on a Chain Gang, and Papillon. The main character, Klaus, was inspired by Cubism (mostly Picasso) with a flattened, skewed aesthetic."
Sorenson's filmography also includes a collaboration with They Might Be Giants' to create the music video The Bastard Wants to Hit Me, The Surfrider Foundation's PSA Rise Above Plastics and the credit sequences for the features ParaNorman and The Boxtrolls. He has directed work for clients including Nike®, Starbucks®, Ohio Lottery, Honey Nut Cheerios®, Target®, Orville Redenbacher® and Dole®.
"There is an amazing amount of detail throughout the short that the crew added. In the opening shot there is the most wonderfully disgusting toilet way down in the bowels of that awful prison cell. Originally we had spikes coming out of the bowl, but it was a little hard to read at such a small scale. There's also this weird cage torture thing I love that is a prop in the end shot. There are treasures like that all over, especially at the end of the short. I love how great model builders will bring such enthusiasm and creative little details to everything they touch."
The production participated in the state of Oregon's Indigenous Oregon Production Investment Fund (iOPIF) incentive program, and was created through HouseSpecial's Short Stuff™ program.
Jailbreak has also screened at: Zabut International Animation Short Film Festival, 2017 Lower East Film Festival NYC, NW Animation Fest 2017, Animation Nights New York, SPARK ANIMATION 2016, Anima Mundi, Portland Comedy Film Festival, Oregon Independent Film Festival, KROK International Animated Films Festival, Festival Stop Motion Montreal, Burbank International Film Festival, Montreal International Animation Film Festival, Animation Block Party and Annecy International Animation Film Festival.
Jailbreak is screening before Spring Breakers Thursday, Aug. 31 as part of the NW Film Center Top Down: Rooftop Cinema on the top of the parking garage at the Hotel DeLuxe. Sorenson will be answering questions following the short. 
Crew Credits
Conceived & Directed by Aaron Sorenson
From HouseSpecial – a Short Stuff™ production
Creative Director: Kirk Kelley
Executive Producer: Lourri Hammack
Production Designer: Alan Cook
DP: John Nolan
Editor: Steve Miller, Cam Williams
Line Producer: Nicole Fitzhugh
Production Assistant: Alex Webster
DESIGN 
Character Design: Aaron Sorenson, Alan Cook
Background/Environment Design: Craig Bowers, Don Flores, Sharon Huang, Kristy Kay, Phillip Spehar, Tod Polson
FABRICATION 
Character Fabrication: Katie Mello, Margaret Meyer, Chris Ohlgren
Set/Prop Fabrication Lead: Greg Fosmire
Set/Prop Fabrication: Gary Logue, Katie Mello, Margaret Meyer, Josh Pearce, Emma Van Halsema
STAGE   
Animation: Suzanne Twining
Swing/Electric/Grip: Jake Hauswirth
Wrangler: Rob Melchior
Art Dept/Stage Manager: Erica Johnson
CG & POST PRODUCTION 
FX: Patrick Van Pelt
Opening Titles: José Díaz, Stephen Bodin
Matte Painting: Stephen Bodin
Flame Artist: Rex Carter
Editorial Assistant: Dino Coons
MUSIC & SOUND
Original Music Produced By: Mophonics
Original Music By: Roberto Murguia and Róisín Malone
Creative Producer: Kristoffer Roggemann
Creative Director: Stephan Altman
Sound Design & Mix By: Lance Limbocker, Limbocker Studios
A special thanks to the Oregon Film Board