As Oregon Film starts to think about turning that wily age of 50 we are reflecting on some of the history that brought us to this point in our lifespan – and why not start at the beginning?
The story goes – after he made the beaches available to the public – Gov. Tom McCall needed just that little bit more to cement his legacy, so he assigned staffer Warren Merrill to help out a large Hollywood production creating No Name City at the confluence of two rivers in Baker County and, Lo and Behold, the beginnings of Oregon Film were born and so was…
PAINT YOUR WAGON (Joshua Logan, 1969)
Contributor Phil Oppenheim takes us from there.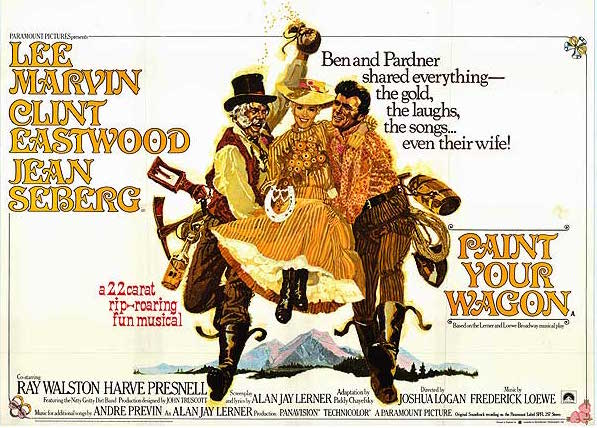 Folks fortunate enough to be near Baker City on Eclipse Day, August 21, are probably already prepared for the solar event: you've secured your protective eyewear and are ready to wear them to protect your corneas.  What locals and visitors might not have heard, though, is that the best way to watch the musical Paint Your Wagon — shot largely around the confluence of East Eagle Creek and Little Kettle Creek, prime viewing for the eclipse — is to jam your ears with industrial-grade plugs. 
Paint Your Wagon has become infamous for stretching the vocalizing of its non-singing male leads, Lee Marvin and Clint Eastwood, far, far beyond the stars' vocal abilities, resulting in oft-mocked sub-American Idol performances.  Unkind critics skewered the results, likening Marvin's singing to a "pained, bough-break wheeze" and describing Eastwood's as an "earnest amateur fashion" (as, for example, in The Hollywood Reporter); even the movie's co-star, Jean Seberg, got into the act, describing Marvin's singing as sounding like "rain gurgling down a rusty pipe" (which might explain why her own lack of ability was dubbed by the off-screen warbling of Anita Gordon).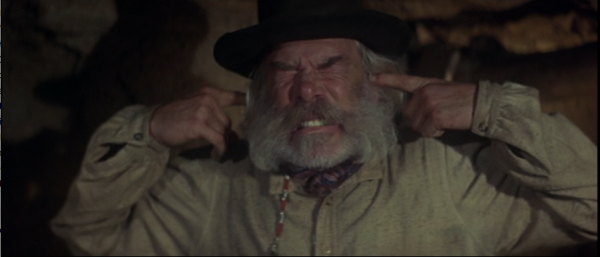 Lee Marvin demonstrates approved protective precaution for listening to his singing.
The truth, though, is that the movie is often fun, weird, interesting, and occasionally disturbing, and much better than you might have heard; it's also undeniable that its widescreen use of the Oregon locations is stunning.  Paint Your Wagon was a 1951 Broadway hit created by the team of Frederick Loewe (music) and Alan J. Lerner (lyrics and book), and legendary writer Paddy Chayefsky  (Oscar winner for Marty in 1955, The Hospital in 1971, and Network in 1976) was charged with making it a bit hipper and contemporary, fit for late 1960s audiences.  Chayefsky turned the rollicking frontier comedy into something stranger and much more provocative than the stage show, poking at his audience's conventional morality.   
Marvin's drunken prospector Ben Rumson meets, befriends, and teams up with good-guy newcomer Eastwood, whom he refers to only as Pardner, in a friendship that quickly deepens; the grizzled Rumson confesses to Pardner that "I get melancholy now and then … but if you stay with me, I'll be OK."  They find gold in them thar hills, and soon their adopted wilderness home booms into No-Name City, stuffed to the brim with an all-male horde of fortune hunters.  A Mormon wanders into town with his two wives, and is quickly persuaded to auction off one of them (why should one man have two when so many have none, goes the argument), and Rumson is the lucky winner, buying himself a brand new wife (complete with deed).  As you'd expect, the addition of a pretty blonde soon disturbs the precarious balance between Rumson and his younger, handsome Partner.
Instead of choosing one man over the other, though, Mrs. Rumson reasons that what's good for her bigamist ex-husband goose is good for the gander, too: she decides to stay with both men in a polyamorous threesome, revealing a truly pioneering spirit, dismissively flouting domestic conventions (and flying on her own wings).  Man and man and wife live happily under one roof — until Civilization and Respectability crawl their way into No-Name City as it grows into a more modern metropolis in the film's chaotic second half.  Nothing gold can stay, and the trio's wedded bliss comes to a bittersweet end (the details of which I won't spoil here).
Audiences might not have been ready to singalong with a morality-busting, upapologetic ménage à trois in their big-screen Western musical — although one could imagine slashfic Eastwood and Marvin fans having a blast with the material — but that doesn't mean you shouldn't.  Brace yourself, put your protective earpieces within easy reach, and enjoy.
Watch: Paint Your Wagon, Paramount Home Video (H/T Multnomah Public Library)
Visit: Paint Your Wagon Interpretive Site (US Forest Service)
Watch: Paint Your Wagon Location visit from 2012 (YouTube)
Watch: "Making Of" link (Baker Heritage Museum – Visit BHM)
Additional note for pop music obsessives: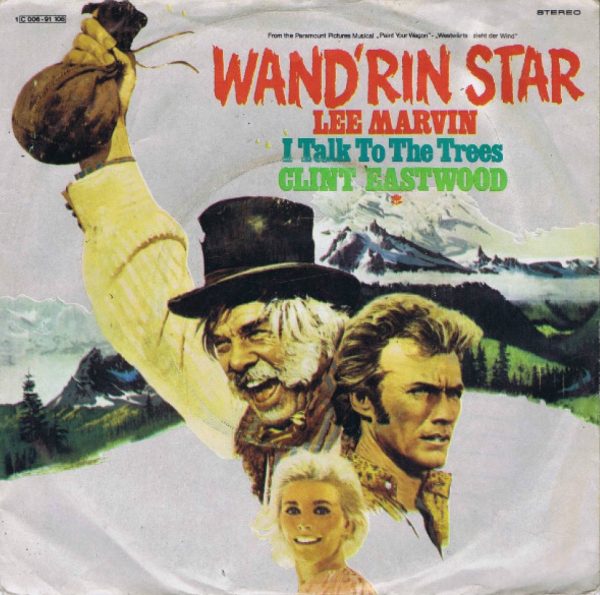 Marvin's introspective, melancholy version of "Wand'rin Star," his grumbly showstopper of a talking-song, became a huge hit when it was released as a single in the UK in 1970.  It peaked at Number One in the charts, and held the spot for three weeks — besting The Jackson 5ive's "I Want You Back," The Beatles's "Let It Be," and Simon and Garfunkel's "Bridge Over Troubled Water" in the process, ultimately winding up at #6 for the year (beating, among many others, The Kinks, The Beach Boys, The Moody Blues, and Black Sabbath in the singles charts).  I love its humble poignance and earworm melody, and I bet some of you will start singing it along with me too …
Listen: Lee Marvin, "Wand'rin Star," YouTube
Written by Phil Oppenheim