Explore why VR & AR are the next industries to invest in and see the latest projects and companies taking off within Oregon!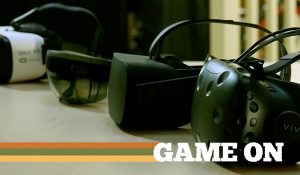 Game On is the Oregon Game Organization (OGO)'s annual celebration of games and new technology.
Games are a strong and ongoing contributor to job creation and the state's economy.   Join business and creative leaders, policy makers and educators to see what where we've been and what's coming next.
Date: March 9th
Time: 6pm – 10pm
Cost: $20 – General Admission
Location: New Relic, 111 SW 5th Ave, Suite 2700, Portland
Interested in sponsoring the growing games industry in Oregon?  
View sponsorship opportunities 
here
, or contact Theresa Jelderks at 
[email protected]
.
Join Oregon Games Organization and Oregon's investment community as we analyze the market's opportunities & risks within the gaming industry.

Join our speakers, Matt Miesnieks & Stephen Saltzman to hear their stories of success and learning lessons from investing in enterprise gaming.
Date: March 9th
Time: 10am – 12pm
Cost: $20 – General Admission
Location: K & L Gates, 1 SW Columbia St, Suite 1900