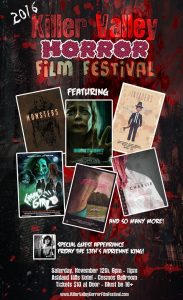 Returning to Ashland, OR for it's 8th installment, the Killer Valley Horror Film Festival (KVHFF) is a celebration of independent horror and science fiction movies from around the globe. A one-night affair, geared to film-goers 18 years and older, the festival showcases genres that are arguably the most fun for independent filmmakers to create, and provides an atmosphere for horror fans to watch in a more social environment than a typical theater setting. Audiences often dress in costume, and the festival offers Special FX Makeup Booths in case viewers want to feel like a zombie for the night.
Local film production companies, along with Southern Oregon Film and Media (SOFaM), will have booths set up to showcase their works.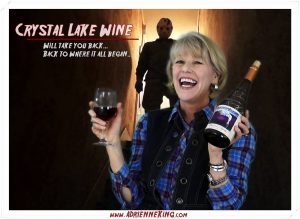 This annual event also features a special appearance by Adrienne King, star of the original "Friday the 13th," and proprietor of Crystal Lake Wines. Fans can get autographed bottles of her signature blends, all made in the Rogue Valley of Southern Oregon.
The hotel bar and restaurant will be open during the festival, and film-goers are encouraged to enjoy the full evening with refreshments of their choosing.
The KVHFF 2016 Line-up includes four Southern Oregon local films: 
Besetment (Barbed Wire Films) – feature presentation
I Never Will (ROW 211 FILMS)
Roxy and the Mine (SOU graduate Piers Dennis)
Rose and the Devil (Bison Motion Pictures)
Additional U.S. films include: Bag a Body, The Call of Charlie, Graveyard Shift, Invaders, Larry Gone Demon, Monsters, Muscle Face, Pigskin, Sloven, Small Talk, The Cop Cam, and The Fisherman's Wife.
Foreign films include: Alien Inside, Alter, Mr. Denton, Munchies, Pretty, Selfie, The Final Girl and The Magic Dumplings.
Scary movie buffs in Southern Oregon this weekend will surely enjoy an evening of new films to spook and startle you, and probably a few that will gross you out. For those outside of the region, you can follow the festival via it's Facebook page and official website, where they often feature short films from the festival and provide viewing and distribution details on featured films.
---
*Films will show from 6pm-10pm, followed by an awards presentation, at the Ashland Hills Hotel & Suites in Ashland, OR (click for map). A Q&A Session with filmmakers will follow in the hotel bar after the festival. Tickets are $10 at the door.
---