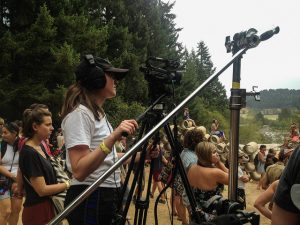 Learn all about shooting live events as a trained cameraperson for the Pickathon Music Festival, one of the largest outdoor music festivals in the US (August 4-7).
Register online.
This mentored crew experience is open to anyone with an interest in filming music, sports and other live events, from absolute beginners/novices to advanced filmmaking students. A combination class and field experience, the fun starts with four weekly instructional sessions devoted to hands-on camera operation techniques, specialized gear such as jibs, robotics, switchers and more, and how a camera crew and director work together as a creative team on location. A class practice shoot at Mississippi Studios on Friday, July 22nd will let everyone shake the bugs out. Then the group will head out to Pendarvis Farm to set up and serve as the camera crew for Pickathon's Treeline Stage, working with mentors to film the stage's music acts during the action-packed, multi-day music extravaganza (which runs August 4-7).
Topics:
Multi-camera production: what it is, how it works, why it is used for live event filming
Types of cameras and other equipment used for live shooting
Techniques for tripod, hand held, and remote/robotic shooting
What a control room is and how it works
Determining control room location, camera placements, cable runs, signal flow, etc.
The pre-show set up and roll out schedule
Getting good audio
How camera operators respond to Director commands
How the Technical Director supports the Director
Capturing the event venue as well as the performance itself
While at Pickathon, respond to Director commands during live filming, sit in the control room and hear the Director call shots, review daily footage and get instructor and peer feedback for your shooting
Details:
July 5, 2016 — August 7, 2016
Tuesdays, Jul 5-26 | 6:30 pm-9:30 pm | + Pickathon Music Festival Weekend Aug 4-7
Cost is $765 and includes pass to Pickathon ($370 value, including parking pass) and all needed production equipment, including Steadicam Merlin, camera jib, and dolly.
Register online.