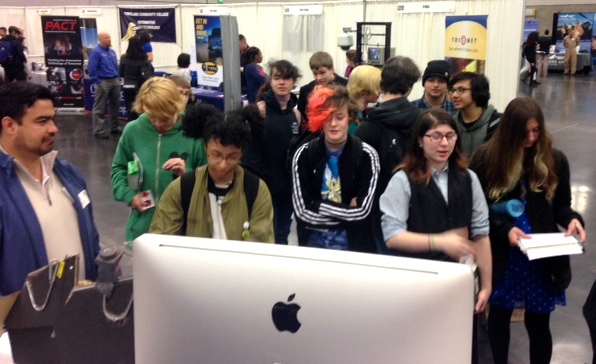 Oregon Film hosted a booth again this year at the NW Youth Careers Expo, and we were joined by representatives from:
Selected high school students, and Governor Kate Brown, addressed the pre-expo breakfast attendees, reinforcing the message that supporting Oregon's youth as they emerge into the workforce is integral to our state's growth.
The expo was put on by the Portland Workforce Alliance, and had over 160 exhibitors. Our collective booth fielded hundreds of questions about how to find a career in everything from writing for film and TV, editing, camera work, animation, independent game design, special effects, make up, acting and directing. The opportunity the students had to talk directly to working professionals in their field of interest was invaluable.  We were also able to connect with many high schools career counselors who were interested in knowing how best to advise those students who intend on pursuing jobs in the film, TV, digital, and gaming industry.  Thank you to our volunteers.  Read more here.
#PWAexpo #oregonfilm