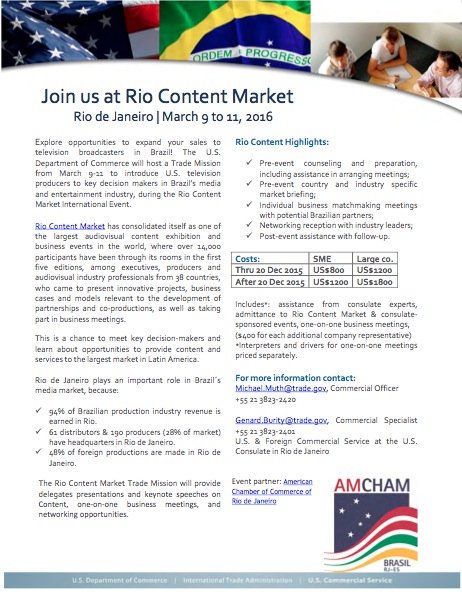 The US Commercial Service Office and their counterparts in the U.S. Embassy in Brazil, are supporting U.S. firms participation in the Rio Content Market (RCM) next March.  They would like to get the word out to the Oregon creative community who has content they may be interested in offering internationally.  The exhibition is the largest event of its kind in Latin America (3500 attendees last year).
Who: Producers of content for television: companies which produce TV series, individual shows, animations, documentaries, independent productions, feature length movies for TV, reality shows, stage or movie adaptations, complementary TV digital media, scripts
What: Meet with Brazilian & international broadcast & cable network executives to pitch your programs to their networks in 1-on-1 meetings & learn about the market in keynotes, lectures, & round-tables;.
When: 8-11 March, 2016
Where: Rio de Janeiro, Brazil
Why: Brazil is the largest TV market in Latin America (54M pay-V subscribers & growing quickly, 24% CAGR 2007-13), & there are opportunities to pitch to broadcasters in many other countries too. Other countries have been bringing foreign delegations to Rio Content Market for years & successfully selling their content & negotiating co-productions. Americans should too.
How: Sign up with us to take part in our program at Rio Content Market
In addition to taking advantage of all that the Rio Content Market offers, the U.S. Commercial Service Office Program in Portland provides their local experts based in Rio de Janeiro that assist U.S program participants with :
Arranging meetings with the right decision-makers;
A day-long industry & Rio Content Market briefing the day before the event to maximize your success at RCM;
A networking reception to get-to-know industry leaders the evening before the event;
Local assistance with follow-up after Rio Content Market concludes.
More details in the attached flyer or here.
There will be a webinar on 8th December to provide more information about the Rio Content Market. Please let Scott Goddin know whether or not you are interested in learning more about participating in this event by contacting [email protected] at your earliest convenience. The pricing for their programs will go up next month, so contact Scott soon if you are interested.  There may be some grant awards available for eligible companies for travel.
For more information, please contact, Scott Goddin at [email protected]
The U.S. Commercial Service office in Portland is a part of the U.S. Department of Commerce and works with small and medium–sized companies throughout Oregon and SW Washington to help them get their products and services into international markets. (They provide counselling, advocacy and matchmaking programs through their global network in U.S. Embassies and consulates around the world. For more information on their agency and programs read here.)