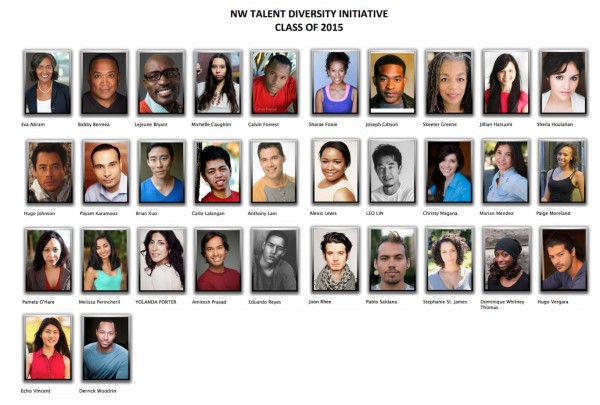 Oregon Casting Company, Acting Coaches to Provide Talent Diversity Initiative in Portland
32 Northwest Performers Selected to Complete 36-Hour Actor Training Intensive for Film & Television
(PORTLAND, OR) Thirty-two Northwest actors have been chosen to complete a six-week intensive training program, as part of a new Talent Diversity Initiative to take place this fall in Portland. The program is being produced by Cast Iron Studios, in partnership with Act Now Studio and Scott Rogers Studios, and will be sponsored by TNT.
"We realized that we shared a common goal," said Casting Director Lana Veenker, president of Portland-based Cast Iron Studios, a film and television casting company, "in that we all want to see more diversity represented in the projects that shoot in the Northwest."
This can be challenging, however, in a city with the notorious distinction of being the "whitest city in America." "On every commercial, series and film that we cast, producers, directors and executives are always telling us, 'more diversity, more diversity.' And believe me, we bend over backwards, but it can be really hard here."
Veenker understood that the issue was not one of talent or even numbers, but of opportunity and access. "Actors of color are underrepresented in the top acting schools and acting classes, places that are often the gateway to talent representation and introduction to casting directors. And when they are not able to train at the highest level, it becomes even more difficult to compete and to succeed."
The reasons behind this disparity are as varied as the individuals affected by it: Economic hardship, work or familial duties, cultural stigma, language barriers, lack of support by immediate family, even a perception that there's no place in the industry for actors of color or their stories.
"We thought, 'the one thing we can do is remove one of those barriers,'" said Veenker. "Let's find a way to put a pool of actors through an intensive training program at no charge, and get them to a place where they can be booking roles more consistently. It will benefit all of us."
Veenker approached Alexis Booth, Manager of Casting at TNT. Cast Iron Studios has had a long relationship with the network, after casting four seasons of Leverage, two seasons of The Librarians and a few TV pilots. Her goal was to see if they would underwrite the program. She also approached known Portland acting coaches Jana Lee Hamblin of Act Now Studio and Scott Rogers of Scott Rogers Studios, to ask if they would provide the bulk of the training. The response was enthusiastic from all camps.
Cast Iron Studios next petitioned Northwest talent agents to nominate actors they felt could most benefit from the program. "We wanted performers who had already been vetted as having talent and a strong commitment to their craft," said Veenker. "And then we wanted to give them that extra boost; some high-level coaching that will help them close the deal in the audition room. These are already actors in whom we have a lot of faith. Now we want to see them crossing the goal line."
Beginning on October 10th, two classes of 16 actors each will hone their skills by working closely with coaches Hamblin and Rogers over five 6-hour-long sessions. On November 21st, the course will culminate in a mock audition session and Q&A at Cast Iron Studios with members of its casting team, followed by a media reception. "Over the coming year, we'll hopefully start seeing our Class of 2015 on big and small screens nationwide. That's the goal," said Veenker.
##