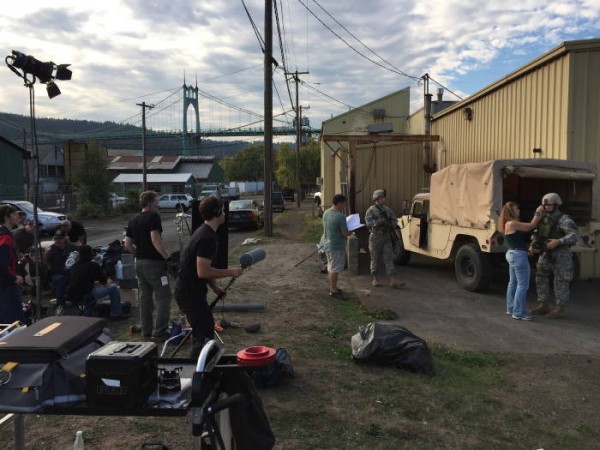 October 8, 2015 (Portland, Oregon) In the St. Johns neighborhood of Portland, the first day of production was conducted of the locally produced feature length motion picture "Out Of The Darkness." The four week production will be utilizing local crew and vendors, with local actors and some from outside the State. The cast includes, Adam Davis, John Lewis, Graham Greene, Michael Joiner, Sherry Morris, and Stephanie Landrum.  The film's director is Shawn Justice, who grew up in North Portland with the film's producer Sean Skelding. The producers include, Executive Producer, Tony Perez, Co-Executive Producer, Greg Beber, along with Co-Producers, Rio Valentine and DC Rahe.
"Out Of The Darkness" Story
(Suspense / Drama / Faith) – Eli is a man in his twenties with a calling on his life from a young age, but he's been running from that calling — a modern day Jonah. After being fired by his father, arguing with his girlfriend in front of their daughter, and then a visit to the local pub, Eli decides to get out of town. On a lonely mountain highway Eli misses a turn and careens over an embankment, landing deep in the forest. It is a place of mystery with no way out, but it is there where God works on his heart. Satan is not far behind of course, working to convince Eli to take a different path. In the end Eli is faced with a choice that will have repercussion on generations as we find out that years later he is the next Billy Graham of his time.
Cast and Credits
Eli (lead) – Adam Davis – local
Helen Isaacson (Eli's Mother) – Stephanie Landrum
"Out Of The Darkness" is a co-production of Hydra Entertainment and Justice Pictures with distribution by Origin Releasing.
In early 2016, Hydra Entertainment and Justice Pictures, plan to produce two more feature films "Justice" and "Family Trip."