Tell Your Story at the 2015 Oregon Coast Film Festival
Bandon, OR–  Everybody's got a story to tell. Share yours at the 2015 Oregon Coast Film Festival in Bandon, Oregon.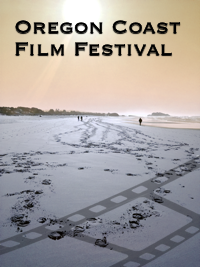 The Oregon Coast Film Festival invites submissions by professionals and amateurs through September 1. Categories for documentary shorts are, Historical and Cultural; Tourism, Outdoor and Recreational; Student Videos; and a new 2015 Cranberry Challenge category. Independent and feature length submissions are also welcome.
The 2015 Festival is October 9 and 10, at the Sprague Community Theater in Bandon. Videos in all categories are screened at the festival. Prizes are awarded for the best documentaries.
Find more information at: www.OregonCoastFilmFestival.org.
"I'm interested in hearing stories about the area and the landscape, the culture," said festival founder Dave Wilhite.
A fan of narrative broadcast journalism and independent film, Wilhite says video is the storytelling medium of the day. Digital technology makes shooting and publishing video an affordable, accessible medium for almost anyone, he said.
Wilhite started the Oregon Coast Film Festival in 2013 to entice more storytellers to share their experiences. Festival screenings included approximately 20 videos each year in 2013 and 2014.
Festival audiences have enjoyed professional and amateur videos produced throughout the Pacific Northwest, including commissions by Travel Oregon that highlight destinations such as Face Rock Creamery and Heceta Head Lighthouse. Homegrown productions include historic reenactments on the Coos River, plus adventures with Bandon wildlife photographer Kellie Herrick and coast trekker Nick Martin.
Wilhite offers a new challenge in 2015: He wants to see "the greatest cranberry story ever told" brought to life on screen. Check out stock video available on the festival website, featuring cranberry industry footage and contextual sequences of the Oregon Coast. Submissions in the new Cranberry Challenge will be eligible for festival screening and prizes.