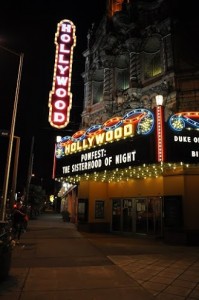 The Portland Oregon Women's Film Festival (POWFest) is now accepting  entries for its ninth annual festival scheduled to take place March 3 – 6, 2016.  The regular deadline for entries is Friday, August 14, 2015.
 Deadlines & Fees
 Early Bird Deadline: Postmarked by June 19, 2015 ~ $25
 Regular Deadline: Postmarked by Friday August 14, 2015 ~ $35
 Late Deadline: Postmarked by Friday August 28, 2015 ~ $45
 Extended Deadline: Postmarked by September 11, 2015 ~ $55
Films must be directed or co-directed by women and can be of any length,  style, or genre. Detailed information about submitting films can be found  here!
MISSION & OBJECTIVE
In recognition of the power of women's voices in film, the Portland Oregon Women's Film Festival (POWFest) places a spotlight on women directors by showcasing their work and strengthening the community of women in film.
We feature the work of today's top women directors, honoring the true pioneers while providing support and recognition for the next generation of leading women filmmakers.
ABOUT THE FESTIVAL
POWFest's overarching goal is to increase the number of women in leadership roles in media by providing resources, education and visibility.
Through this festival platform we promote and create professional development and networking opportunities for women filmmakers of every level. Beyond filmmaker participation, we are also dedicated to bringing to Portland, programming that is thought-provoking and will engage the audience well beyond the theater.
In addition to the annual festival, filmmakers have the opportunity to be selected for our POWMonthly screening series, which extends our ability to bring women's voices to the Portland film scene throughout the year.
POWFest has had the honor of hosting a variety of emerging filmmakers and accomplished Directors like Allison Anders, Irene Taylor-Brodsky, Kathryn Bigelow, Gillian Armstrong, Amy Heckerling, Barbara Kopple, Penelope Spheeris, Ondi Timoner and Joanna Priestley. The 4-day festival, scheduled for March 3-6, 2016 will feature over 50 films, offering attendees a variety of narrative and documentary programming. The experience is enhanced by filmmaker participation in post-screening Q&As & panels.
It is POWFest's goal to be inclusive of all women's voices, regardless of race, class, age, religion, ability, sexuality or gender presentation. We respect each individual's right to gender self-identification.
POWFest is produced by Sour Apple Productions in partnership with The Hollywood Theatre.