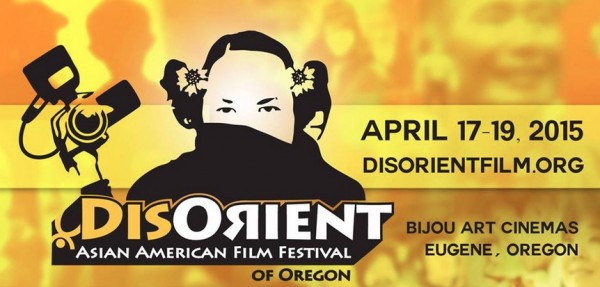 Eugene, OR – The Chinese American Benevolent Association is proud to announce the 10th anniversary of the DisOrient Asian American Film Festival of Oregon, a juried, all-volunteer, grassroots celebration of independent film and social justice. DisOrient is known internationally for its warm and intimate festival experience showcasing fresh, independent films that present the vast diversity of Asian and Pacific Islander American voices and perspectives.
DisOrient brings directors, actors, and industry professionals from around the globe to Eugene, Oregon for a fabulous celebration of film as art to expand the discussion of American history, inclusiveness, and identity. Festival attendees will be engaged in narrative and documentary films, receptions, Q&As with filmmakers, and a workshop, all over 4 days at the Bijou Art Cinemas on 13th Avenue in Eugene. The Opening Night Film is Cicada, directed by Dean Yamada, who debuts at DisOrient on Friday, April 17th. It won the 2014 grand jury prize for best narrative feature at the Guam International Film Festival and the L.A. Asian Pacific Film Festival. Dean Yamada and Leilani Abad (Co-Editor) will take questions during the Q&A. The Opening Night catered Reception is at Sam Bond's Brewing Company. The festival's Centerpiece Film is Under the Blood Red Sun, based on the award winning book by Graham Salisbury. The filmmakers allow you to realistically experience what it was like to be a Japanese American family in 1941 Hawaii. Meet Director Tim Savage, Producer Dana Hankins, and award winning Author Graham Salisbury at the screening on Saturday night. They are also presenting a special "Making Of…"workshop for film buffs on Thursday, April 16th at New Hope Christian College at 4pm. After a weekend of 29 films, DisOrient ends with a bang by paying homage to an iconic Asian American actor in the Closing Night Film To Be Takei, directed by Jennifer Kroot and starring George and Brad Takei. The film explores the successful life of George Takei from his childhood years in an internment camp, extensive acting career, Star Trek fame, marriage, partnership in activism, to his status as a Facebook phenomenon. Oh My! Join To Be Takei's Producer, Mayuran Tiruchelvam, for a post-screening Q&A.
The Closing Night Awards Gala is on Sunday, April 19th at the Jordan Schnitzer Museum of Art at the University of Oregon. Admission to the private receptions is by VIP Passes or ticket stub from Opening Night Film for Sam Bond's and ticket stub from the Closing Night Film for Jordan Schnitzer. Themes covered in this year's films include Vietnamese refugee experiences, Chinese traditions, surviving life's lows, being mahu, Asian American movie bad guys re-mixed, labor union reform, love of hula, moral dilemmas, bullying, following the American Dream, Korean American hip hop song, lessons from war, an ode to Burmese leader Aung San Suu Kyi , Filipino American ethnic dance, Japanese American internment from Alaska to Hawaii, history of Guam, the search for acceptance, marriage equality, as well as many tales of courage, and cultural legacies. There is a free Sunday Shorts Program. Individual ticket prices range from $5-$12 (on-line or at the door), and seating is limited. VIP Passes are available for purchase ($75 in advance, $80 at the door). Ticketing links and schedule will be posted on www.disorientfilm.org.