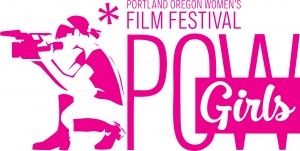 POWFest will host POWGirls in 2015, a unique partnership program with MetroEast Community Media, specifically designed for girls ages 15-18. Over the course of four days in January, a group of selected girls will develop, produce, edit and present a film during the Youth Shorts program at the POWFest March 12-15, 2015.
"We want to serve girls who are passionate about creativity, leadership and technology," said POWFest Education Manager Barb Myers. "We'll give them video equipment and training to produce their own stories and screen them in front of an audience at POWFest."
Executive Director Tara Johnson-Medinger added: "There is still a major gender disparity in the director's chair with only 6% of top 250 US films of 2013 directed by women (The Celluloid Ceiling, 2014). The addition of the POWGirls program directly challenges this statistic while fostering the next generation of women filmmakers."
"Our staff is excited to work with POWFest this year to provide the facilities and equipment needed to develop these young filmmakers," said MetroEast Education Coordinator Jennifer Dynes. "With our six local cable channels, community media is a powerful resource for underrepresented female filmmakers to show their work to a larger audience."
POWGirls will take place at the studios of MetroEast Community Media – 829 NE 8th Street Gresham, OR 97030 on January 23 and January 29-February 1. The instruction portion of POWGirls will consist of media production training; pre-production (collaborative story creation, storyboarding) camera operation, audio recording, and post-production using industry-standard equipment.
In addition, POWGirls participants will have the opportunity to attend screenings and all filmmaker events during POWFest March 12-15, 2015 at the Hollywood Theatre.
To register for POWGirls 2015, go to www.powfest.com/powgirls/ and click on the registration link.
Click here for photos, logos and flyer. Please do not hesitate to contact us with any questions.
POWGirls is sponsored by The Faerie Godmother Fund, MetroEast Community Media and Whole Foods.