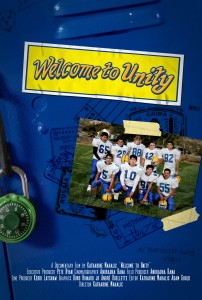 "Welcome to Unity," has won both Children's Jury Prize and Adult Jury Prize for Documentary Feature Film at the 2014 Chicago International Children's Film Festival.
"Welcome to Unity," a 90-minute documentary directed by Katharine Mahalic, is a light-hearted, comedic film that shows how crazy things get when seven foreign exchange students, including two from Muslim backgrounds, are brought into a Christian home in the tiny town of Unity, Oregon—population 100. It's a story literally filmed by a group of exchange students as they sink their teeth into rural Oregon, becoming the stars of the high school football team, and simultaneously learning to live the "American Way." A lighthearted, teen angst film that voyeuristically illustrates that adolescence is a universal experience, "Welcome to Unity" illuminates the integrity of the human spirit, proving that no matter how at odds the world may seem, there is always hope in finding "unity."
The film had its genesis in a 2009 NPR report which inspired Mahalic and her field producer and cinematographer Anuradha Rana to go to Unity, provide the boys and townspeople with Flip video cameras and give them a crash-course in filmmaking. After a year of filming, Mahalic spent the next few years shaping the hours of footage into a quick-paced, funny and ultimately poignant film. Amazingly, Mahalic funded the film on her credit cards, getting her crew to donate their time. The total expenditure thus far on "Welcome to Unity" is less than a day's catering budget for a Hollywood production.
Join us for a screening of this film as well as a conversation with the Executive Producer following the film.
Thursday, Nov 13
6:15-8:00 PM
Buckley Center Auditorium, University of Portland
FREE!
See the trailer here: WelcomeToUnity.us