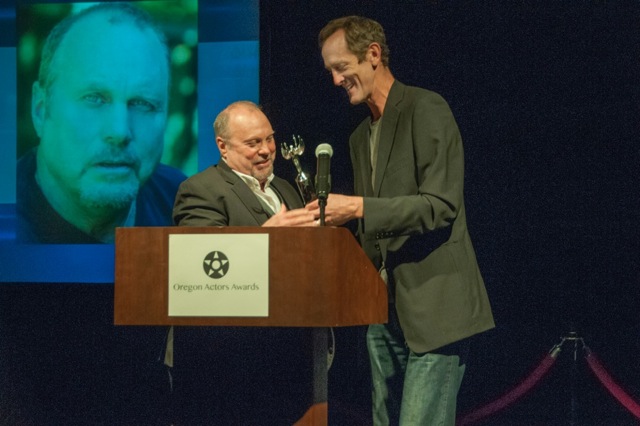 The Oregon Actors Awards celebrate Oregon's deep pool of professional on-camera actors, and the community that supports them in their business and their craft. Thanks to funding by presenting partner Koerner Camera Systems and support from the SAG-AFTRA actors union, the Oregon Governor's Office of Film and Television, the Portland Area Theater Alliance, the Alliance of Professional Performers-Northwest and OMPA, event costs were fully supported so that all of the ticket sales were donated to PATA's Valentine Fund, which provides financial assistance to members of the Portland-area theatre community in times of medical or personal emergency. The event raised over $900 for the fund.
The 2014 Oregon Actors Awards winners are:
Best Male Actor: Danny Bruno (GRIMM series regular, Portlandia)
Best Female Actor: Jana Lee Hamblin (several appearances on Portlandia, A Standing Still)
Best Stunt Performer: Kendall Wells (The Librarians, GRIMM, The Hunted)
Talent Support: Dennis Troutman (Option Model and Media)
"Megann Ratzow Above and Beyond" service award: Harold Phillips
The awards are as much about service to the community as they are about the craft of acting. Nominees spend much of their time coaching other actors, encouraging and participating in independent production to create new opportunities, and advocating for Oregon's reputation as a world-class production center. The Megann Ratzow 'Above and Beyond' Award recipient was Harold Phillips, an accomplished actor and dedicated champion of fair working conditions for Oregon talent.