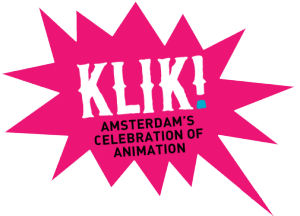 Klik, Amsterdam's favorite animation festival, concludes their historic first-ever US tour with a stop in Portland. Join Klikkers Tünde Vollenbroek and Mathijs Stegink, and Dutch animation director Joost Lieuwma (Things You'd Better Not Mix Up, Leaving Home) at the Hollywood Theatre for two special screenings on June 1st:
7pm: DUTCH DELIGHTS is a Klik-curated overview of contemporary animation in the Netherlands, proudly presenting striking animated shorts and groundbreaking works. This program is family friendly.
9pm: Best of Klik! The best of the fest, featuring award-winning films from around the world. This program is suitable for children over 8.
Between screenings, we'll be bringing a taste of the festival's unique activities and culture to the Hollywood Theatre, so join us for a special evening of international animation! Admission is only $8!
With support from: Rebekah Villon, The Hollywood Theatre, The Netherlands Film Funds, Eye International, Bent Image Lab, and ASIFA Portland.
More information and advance tickets can be purchased at The Hollywood Theatre website.