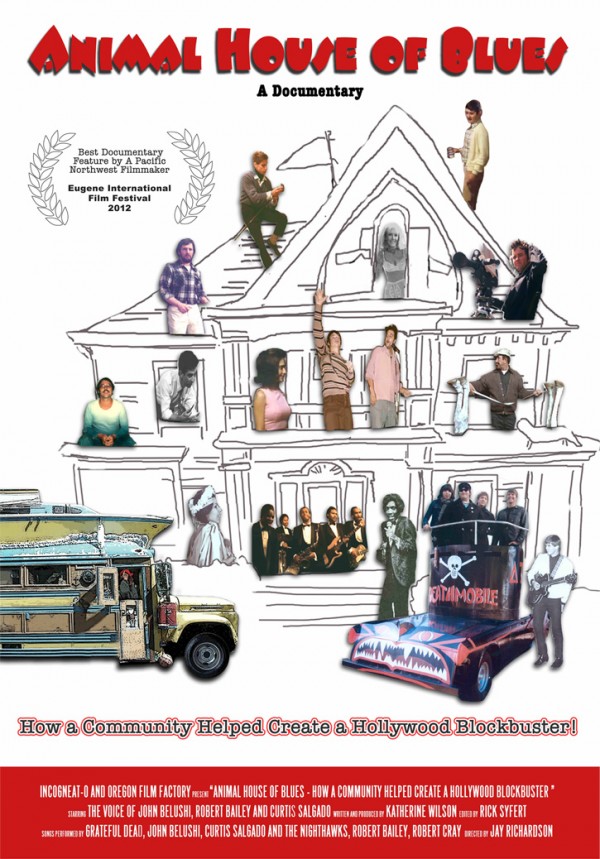 We are so pleased to announce that Oregon's own "Animal House of Blues" is launching World Wide July 22nd 2014 digitally on Amazon, Amazon Prime and Vimeo; and additionally by preordering physical DVD's (with a booklet) that will be available on August 26th @ Movies On Demand. http://www.imdb.com/title/tt2342022/?ref_=fn_al_tt_1.
This Oregon-made documentary began as a student project in 2012 at the U of O, and has now mentored over 11 students from 3 graduating classes of future filmmakers.  The first version won 'Best Documentary Feature by a Northwest Filmmaker" @ the Eugene International Film Festival, http://www.eugenefilmfest.org/2012-winners  where it received an offer of Distribution for 2013 via Sales Agent Tony Ventura for Rivercoast Media.
In the interim, offers to contribute to the film by DeWayne 'Otis Day' Jessie, Original Knight Bob Bailey, Original Kingsmen Guitarist Mike Mitchell of 'Louie Louie' fame and Portland's Power Pop Band  "The CRY!" caused it to be pulled from the October release date by the filmmakers, who then added the  interviews and ensuing music to it's already world-class soundtrack.
This soundtrack was originally comprised of uncovered treasures:  DK Stewart's reel-to-reel tapes of John Belushi performing with Curtis Salgado at the Eugene Hotel during the filming of "Animal House" in 1977, and is at the heart of the documentary.   Eyewitness accounts of this seminal event corroborate Oregon filmmaker Katherine Wilson's screenplay.   Wilson worked as location scout and location casting director on the blockbuster.  http://imdb.me/katherinewilson.
Universal Studios and Rolling Stone Magazine added to the film's collection of 600+ black and white images taken behind-the-scenes during the filming of 'Animal House'. A never-before published audio interview with John Belushi, adds to the fun.
Subtitled 'How a Community Helped Create a Hollywood Blockbuster or 2', the documentary showcases to the world how incredible the film community of Oregon is and has always been.  Here's a review by infamous film blogger Dennis Cozzalio:
http://sergioleoneifr.blogspot.com/2012/10/of-course-were-talking-about-deltas-you.html
It is the dream of the Producers and young filmmakers to hold a World Class Theatrical Premiere for the film, later this year, including a reunion of Otis Day and The (Oregon) Knights Robert Cray, Ron Steen and Robert Bailey with Curtis Salgado's 1977 Band including DK Stewart.  We would also love to add 30 minutes of film to make a 1 ½ hour theatrical version (including out-takes and new footage) that the student film budget just couldn't support.  Please check out our website by our new partners at Mockingbird Films  if you would like to be a part of making this dream come true.  http://ahb.mockingbirdfilms.com/.