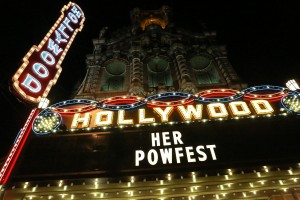 The Portland Oregon Women's Film Festival (POWFest) is now  accepting entries for its eighth annual festival scheduled to take  place March 12 – 15, 2015. The regular deadline for entries is  Friday, August 15, 2015. POWFest places a spotlight on women  directors by showcasing their work and empowering the  community of women in film. POWFest encourages women to  find their voice and to share their stories through innovative  and quality filmmaking. We feature the work of today's top women directors, honoring the true pioneers while providing support and recognition for the next generation of leading women filmmakers. Past Guests of Honor include: Allison Anders, Kathryn Bigelow, Gillian Armstrong, Amy Heckerling, Barbara Kopple, Penelope Spheeris, Ondi Timoner and Joanna Priestley.
Deadlines & Fees
Early Bird Deadline: Postmarked by June 20, 2014 ~ $20
Regular Deadline: Postmarked by Friday August 15, 2014 ~ $30
Late Deadline: Postmarked by Friday September 5, 2014 ~ $35
WAB Extended Deadline: Postmarked by September 19, 2014 ~ $45
Films must be directed or co-directed by women and can be of any length, style, or genre. Detailed information about submitting films can be found at www.powfest.com.