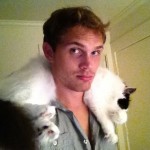 By now you may well have read some of the blog posts here about Slater Smith, his band "The Weather Machine" and the journey Smith undertook (in conjunction with Oregon Film and Oregon State Parks) to get the music video and corresponding web site up.  (As a reminder, Smith made an ambitious trip around Oregon visiting 185 Oregon State Parks to bring us his new music video for the single, "Back O'er Oregon"). But what about the folks behind the scenes on this project?  The creative music video and new web site were created a small handful of talented young Oregonians.
Smith had hours of digital footage when he contacted Oregonian, Mimi Bergen  (an Assistant Editor at Field Recordings) who jumped at the challenge to edit the 185 state parks into a music video that flowed and made compelling viewing.  Bergen, a film studies Willamette University alum noted, "I was so excited about this project when Slater approached me, it felt like a rare opportunity to be able to work on something that was meaningful to me and also a challenge.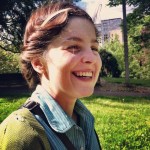 The music video is quite complicated on a technical level, I was given 185 tracks of video that needed synching and cut down to the most compelling sections.  Slater and I re-worked the piece so the jump cuts wouldn't feel quite so harsh, and I think we were successful.  The video has a lightness to it, jumping from one park to the next with Slater and the song carrying you through.  It is also a document of an ambitious journey, one that I am happy to have been a part of.
Jotham Porzio, a born and bred Oregonian, is a videographer with a background in animation, but he also likes to produce and design.  Porzio did an impressive job of bringing together our brief on the "Back O'er Oregon" web site, and cleverly hit all of our creative notes.  He says of his work, "I love to connect the dots and provide a collaborative service to clients that I am working with.  For two years Portland has been a stepping stone into the multi-media industry for me, previously I was attending Southern Oregon Universityand painting apartments for cash!"  Porzio says of "Back O'er Oregon" that it was, "a challenge, and something new….I knew I couldn't do it alone so I reached out to Jake Fery to develop the site and to provide his expertise with web development. It was a smooth collaboration".  We would agree!  More of Fery's web site design work can be sen here.  Currently Porzio is working for Sole Collector and is working on a short, stop-motion animated film that he hopes to enter into films fesitvals in Oregon next year.
We look forward to seeing more from these young Oregonians.