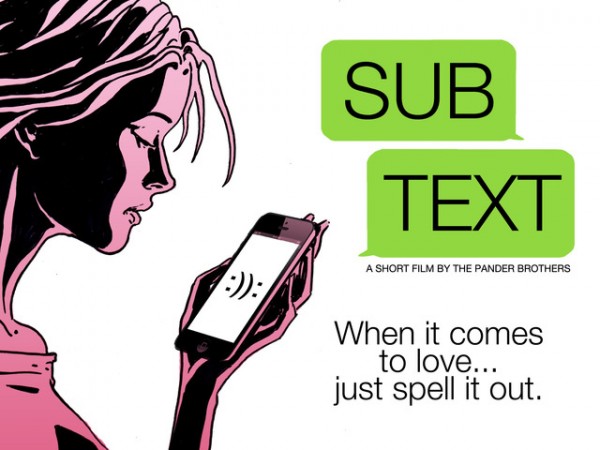 From award winning filmmakers, the Pander Brothers, comes a brand new short film, "SUBTEXT", which explores modern relationships in the era of text messaging.
Funding for the project was raised through Kickstarter. The Pander Bros. are excited to work in this new fund raising format, giving them a chance to work with long time community friends and supporters.
"We are excited to be up and running on a personal vision that is mostly financed by Portlanders who are supporting the arts and film community through crowd-funding sites like Kickstarter. It's a great way for people to support projects on their own terms." – Jacob Pander
The Dandy Warhols frontman Courtney Taylor-Taylor, is Executive Producing "SUBTEXT', which begins shooting in July.  Taylor-Taylor supplied the song "And Then I Dreamt of Yes" for the Pander Brothers' celebrated 2010 debut feature film, "SELFLESS'.
Since then, the brothers have spent time between Portland and Los Angeles directing commercials for brands like Panasonic, LG and adidas Originals while developing a handful of their graphic novels as cross – media with video and music including the web series, "Tasty Bullet Exposed" based on their Energy Drink conspiracy graphic novel Tasty Bullet co-authored by Jonathan Vankin for Image Comics.
www.tastybullet.com
And Secret Broadcast Redux – an EDM soundtrack to the digital Graphic novel, Secret Broadcast. featuring music by Portland's, Auditory Sculpture and DJ Wicked. "Check It Out" Music Video: Polycubist Featuring DJ Wicked: https://vimeo.com/56782707
The Pander Bros. are well known for their work in graphic novels.  They recently launched a new website, www.panderbroscomics.com, offering their various creator owned comics digitally. The Brothers share their love of the graphic storytelling medium with rocker Taylor-Taylor who recently released his first Graphic Novel, One Model Nation on Titan Books.
It's great to have someone we have known for so long and watched succeed in both his craft and career, support this vision", says Arnold Pander of Taylor-Taylor's Executive Producer status, "We are thankful to have friends and supporters in our own community get behind a passion project like SUBTEXT."
You can find out more about SUBTEXT at: http://www.panderbros.com