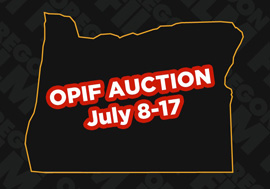 The Oregon Department of Revenue in conjunction with the Oregon Film & Video Office will be auctioning off $6million worth of tax credit certificates beginning July 8.  Proceeds from this auction will benefit the Oregon Production Investment Fund.  This fund is an important tool in recruiting film and television production to Oregon.  The auction will conclude on July 17.  All bids will not be considered final until bankable funds have been received by the Oregon Department of Revenue.  The funds must be received by July 24.  The process will be much in line with last year's successful auction.
The auction will be done through a website.  You will want to go to this web address – http://www.oregon.gov/dor/PERTAX/Pages/credit-auction-info.aspx and go to the bid page.  The bid page will not be active until July 8.  Please note that all bids will not be qualified until bankable funds are received by the Department of Revenue.  The deadline for turning in your payment is July24.
If you would like to know what the bid pages will look like, below are screen grabs of the bid pages for individuals and businesses.
Individual bid site sample form: http://bit.ly/19vv9S7
Business bid site sample form: http://bit.ly/11KmyGp
The auction will allow tax payers to bid in $500 increments.  The minimum bid per increment will be $475.  Last year all $6million of Tax Credits were sold out.  The average bid was $489.65.
If you plan to hand deliver your bankable funds to a Department of Revenue District Office, a full list of those offices can be found at this website.
Please feel free to call Vince Porter or Nathan Cherrington with any questions (503) 229-5832.