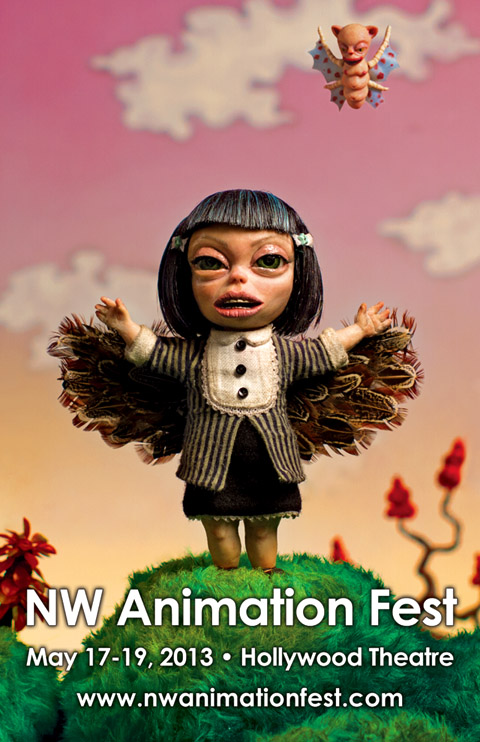 The NW Animation Fest is coming up
May 17-19 @ The Hollywood Theatre
in Portland, OR.
The NW Animation Fest is a variety show that celebrates the best new work from independent animators around the globe. This is the festival's biggest year yet.  And with "over 150 hilarious, dramatic, strange and inspiring films" screening over the course of the 3-day event, it's now "the biggest animation show in the USA."  The Oregon Governor's Office of Film & Television is proud to be sponsoring the opening night of the festival, Friday May 17.
Have you ever watched the Oscars and wondered where those nominees for Best Animated Short are coming from? This is the place to find out. You'll see an amazing cross-section of the animation world and go home wowed by the sheer imagination, craftsmanship, and spectacle.
More info. about the NW Animation Fest's opening night:
NW ANIMATION FEST – FRIDAY NIGHT
Friday, May 17, 2013
7:00pm-11:00pm
Buy tickets for Friday Night

Opening night includes nearly 30 astonishing short films. Here's some of what you'll see: A thief who steals famous paintings, eats them, and is physically transformed by what he consumes… Two cavemen in search of a fabled mathematical dinosaur… A romance of amoebas, as witnessed through the lens of a microscope… A young New Yorker who finds the girl of his dreams with help from an army of enchanted paper airplanes… The death and rebirth of a flying piano… A mad entomologist, whose discovery of a strange horned beetle allows him to change perception of time. Featured films include Pythagasaurus, from the makers of Wallace & Gromit — and this year's Oscar-winner for Best Animated Short, Paperman.
View the festival schedule.  For the latest festival news, please visit them on Facebook or Twitter.