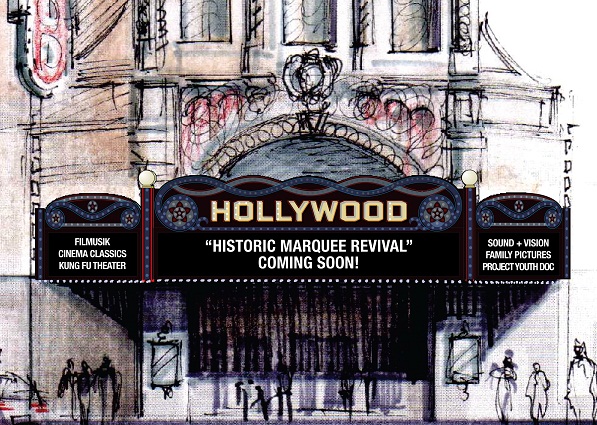 The Hollywood Theatre, Portland's historic nonprofit theatre, is in dire need of a new marquee. The current marquee is crumbling and leaking through the roof, slowly damaging the beautiful façade.  To raise the remaining money to replace it, the theatre has kicked off a campaign on the crowd-funding website, Kickstarter.
The goal is to raise the remaining $55,000 to fabricate and install a new neon, illuminated sign based on the design of the theatre's original marquee of 1926 . The Meyer Memorial Trust has already pledged $25,000, the Kinsman Foundation has pledged $10,000, the Hollywood Boosters have pledged $5,000 and we have already received thousands of dollars of donations from individuals and businesses, but we still need a minimum of $55,000 to make the new marquee a reality.
The Kickstarter campaign will run through December 18th.  The entire $55,000 must be pledged by then. If only a portion of the total is pledged, the theatre will receive none of the donations. Donors can give anywhere from $1 up with pledges made at: http://www.kickstarter.com/projects/hollywoodtheatre/hollywood-theatre-historic-marquee-revival
Portlandia stars, Fred Armisen and Carrie Brownstein, both appear in a video promoting the marquee project that can be seen on the Kickstarter page. Every donor will receive a reward, which may include a movie ticket and popcorn, vintage marquee letters, donor's name and message displayed on the new marquee, and the opportunity to curate a night at the theatre.
"The idea behind this historic marquee revival is to honor the Hollywood Theatre's past while setting the stage for the future," says Doug Whyte, Executive Director. "The existing marquee is over 30 years old and is out of character with the original design of the theatre. It is literally crumbling at the edges and causing leaks in the roof. Plus, there is a 5-story building being erected next door which dwarfs the theatre and obstructs the view of our marquee and beautiful façade. This new marquee will help us reclaim the theatre's prominence on Sandy Boulevard."
Now 86 years old, the Hollywood Theatre is being revitalized. New seats, screens, sound systems and other features have recently been installed, with more to come. The new marquee, already designed, will reflect the theatre's long heritage and be a sign of great things to come. The theatre asks for the support of the community in this vintage "marquee raising."
Note: All Kickstarter donations for the marquee are tax-deductible to the fullest extent allowed by law.