Airing this Friday, October 26, 2012 7pm/6pm central on Hallmark Channel …
Bent Image Lab and Hallmark have joined forces once again this time to produce the 2D animated comedy "hoops&yoyo's Haunted Halloween". Based off of the popular Hallmark e- card characters, the "hoops&yoyo" TV Special was directed by Bent's Rob Shaw and features the hilarious pink cat and green bunny getting trapped in a haunted mall on Halloween night. 
Starring Mike Adair, Bob Holt and Bev Carlson as Hoops, Yoyo and their friend Piddles (of undetermined species), the story starts as the threesome race to buy costumes the afternoon of Halloween. After a trip to the big box store yields no results, the three turn to the mall for help.
Hallmark writers Dan Taylor, Peter Martin, Bev Carlson and Michael Hauge wrote the script for "hoops&yoyo's Haunted Halloween". About 50% of the final show was scripted with the other 50% made up of improvised dialogue (as these characters are largely based) by Holt and Adair. Shaw flew to Kansas City to record the actors voicing their scripted lines and improvised riffs.
"In a longer format show you have to have a little bit more of a through story and an arc that goes somewhere," says Shaw. "But at the same time you want to have all of the character and charm that are in the shorter webisodes. You can really feel these two personalities. We didn't want to lose that by doing a straight forward script, so we did a balance."
The characters of hoops&yoyo were created in 2003 by Bob Holt an artist at Hallmark cards. The first incarnation was in an e-card for 4th of July featuring a pink cat trying to light a firecracker only to have it explode in his face. The response was so strong Holt created a green bunny to give the pink cat someone to talk to and grabbed his friend and fellow Hallmark artist Mike Adair to join him in the sound booth. The two riffed a soundtrack for the characters and thus hoops&yoyo were born.
"One of the most fun things is when you can tell that Bob and Mike have made each other laugh," says Taylor. "When they are having a good time it's impossible to not have a good time with them. That little bit of interaction between the two of them is what you have with your best friend."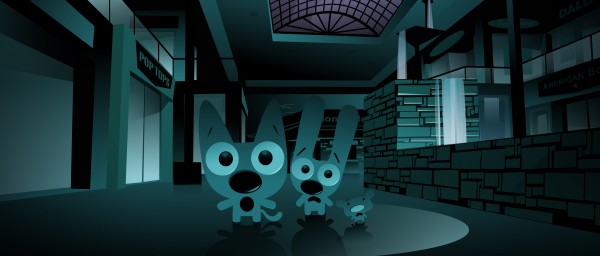 The animation for "Haunted Halloween" was created in Toon Boom with the characters being translated from Flash. The backgrounds were created in Illustrator and the show was composited in After Effects.
"We tried to find a little bit of stuff to bring it more into the television realm from the web realm, adding a little bit of smoothing and some nuance to the performance and animation," says Shaw. "But at the same time they have this snappy, poppy, bouncy motion and we wanted to keep that because obviously it's super important to who they are."
The Halloween backdrop complimented the irreverent and fun personalities of hoops&yoyo and allowed for both humor and the fear in the storyline. "hoops&yoyo have a chance to run around and do all the things that kids would want, eating candy, playing in the mall, wearing costumes and having a great time with Halloween," says Hallmark Executive Producer Jodi Schade. "It's perfect for their personalities to really come out in this special."
"I still can not believe how big of a following hoops&yoyo has," says Bent's Executive Director Ray Di Carlo. "It is uncanny, the number of creatives and executives in our business who rely on hoops&yoyo for a daily dose of fun." "hoops& yoyo's Haunted Halloween" airs on October 26, 2012 7pm/6pm central on Hallmark Channel.