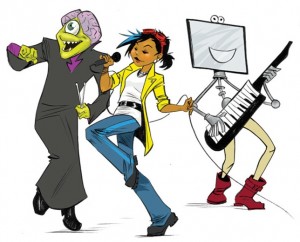 As part of this year's Portland Digital eXperience, there will be an awesome event that I recommend all of you check out.  On September 6 roughly the same time as the usual First Thursday Events in the Pearl there will be a Start-Up Crawl.  What is a Start-Up Crawl?  Check out the initial information about the event that was put up on Rick Turoczy's tech blog Silicon Florist.  Why will this be such a cool event?  Well first there are sure to be some great creative tech companies hosting parties on a nice Thursday evening.  Second – They all will be FREE!  All you'll want to do is sign up to register/RSVP to the various events.  As a part of this collection of events, the first "Next Generation" Media Project to Participate in the iOPIF program "The Digits" will be hosting it's launch party.  Info about the party which will be held at Really Big Video in the Pearl can be found on the event's Facebook page.  In the meantime here's a little info from Producer/Director/Creator Scotty Iseri on the event.
Come one come all, for the official unveiling of The Digits: Fraction Blast.
The world's first "Appisode" Debuts at the Really Big Video gallery. Come meet the characters, win a t-shirt, have some treats, and be among the first to play the game. We'll be projecting a copy of the game for public battles of fraction action, and have tablets available to try the game out.
Bring your friends. Bring your kids. Bring your kids' friends. (but ask permission from kids' friends' parents). We're so thrilled to be a part of MusicFestNW's Portland Digital Experience. There's a "startup crawl" with other startups in the area. I believe we are the only one with a spaceship though, so come on by.
"The Digits" actually has already made a soft launch on YouTube as a part of the "YouTube for Schools" program.  The YouTube channel can be found here.  If you want to subscribe to get updates about the pending app release, go here.
Another cool event happening that night is the Portland Design and Digital Experience Meetup.  In October there will be another great series of events called Design Week and the team behind this and Webvisions will be putting together this event.  Here's info on that meetup:
Portland Design and Digital Experience Meetup
Thursday, September 6, 2012 from 7:00 PM to 10:00 PM (PDT)
Join designers, creatives and tech luminaries for an evening mixer at the fabulous Rogue Public House to kick off the Portland Digital Experience and Music Fest NW. The crew from WebVisions, Design Week Portland and special guests from Portland's digital community.
Location:
Rogue Distillery & Public House (PDX)
1339 NW Flanders
Portland, OR 97209

Space is limited to 70 attendees; please RSVP at http://pdxdigitalexperience.eventbrite.com/
In the meantime, I hope to see you at the event next Thursday!
-Vince