PORTLAND, Oregon (August 22, 2012)  The feature film "Cell Count" premiered on May 20th at the Fantaspoa Fantastic Film Festival in Brazil and plays at the Macabro Film Festival, Montreal HorrorFest, Sitges Film Festival, and Celluloid Screams festival later this year.  Today marks the 6th film festival acceptance from the 13th Annual Buenos Aires Rojo Sangre Film Festival in Argentina.   The BARS is supported by the National Institute of Cinematography and Audiovisual Arts, sponsored by the Film Museum of the City of Buenos Aires and declared of cultural interest by the Legislature of the Autonomous City of Buenos Aires.  The festival takes place in Buenos Aires from October 25-31.
It was also announced today that Cell Count will be available on 11.13.12 via iTunes USA, Canada, EU, and Australia. It will also be available on Playstation, Xbox, Amazon Instant Video, YouTube, CinemaNow and VUDU.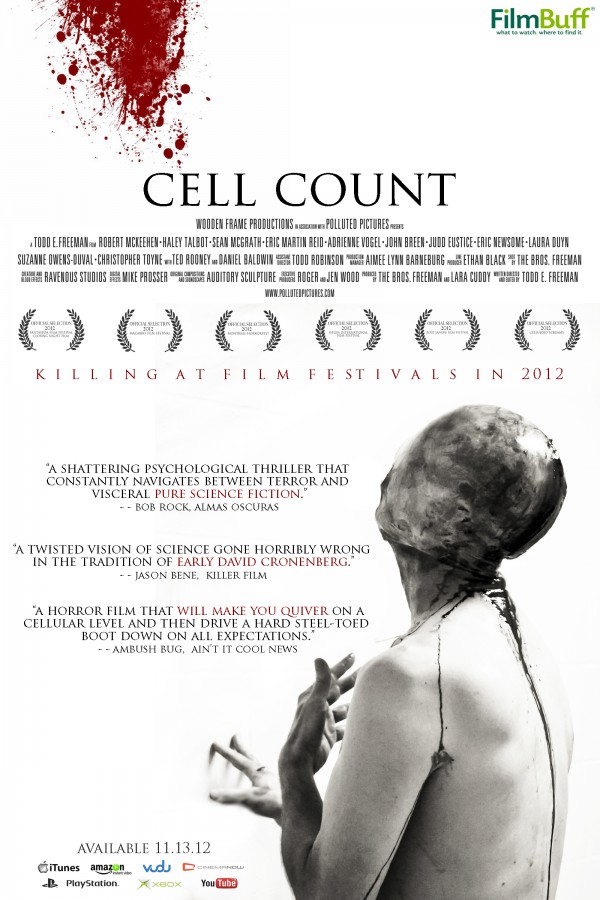 The film is being distributed by FilmBuff, one of the world's largest digital entertainment curators.  Recent FilmBuff international releases include Banksy's new documentary The Antics Roadshow, Harry Shearer's documentary, The Big Uneasy, the Polish Brothers' drama For Lovers Only and the acclaimed indie film The Green.
Go to www.cellcount-themovie.com to read advance reviews,  www.facebook.com/CellCount to stay up to date with news, exclusives, and festival photos, as well as  www.filmbuff.com to find out more about the Cell Count digital release as well as all of their other award winning films.