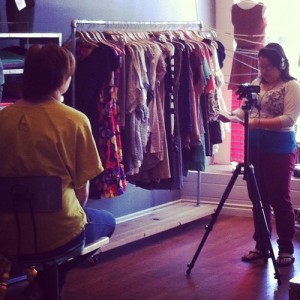 It's been a busy summer for us interns at Oregon Film compared to what most people our age are doing right now: swimming, camping, and vacationing in general. As much as we'd like to take time off and just relax or sleep the summer away, we've been filming videos all summer long, working hard to show the people of Oregon, and the legislature, how the film industry has quietly and stealthily been successful both in-front of and behind the cameras.
Our project, which will include roughly 8-9 videos in total, is showcasing individual vendors and talent throughout Oregon – vendors who have been featured or hired by the recent productions filming in Oregon (Leverage, Portlandia, and Grimm). We've gained valuable insight from the small boutique Shop Adorn who supplies Grimm with some of their wardrobe; camera advice and experience from Koerner Cameras; up to the wonderful atmosphere Acapulco's Gold restaurant and bar provides to the cast of Grimm after shooting. We've only uncovered the tip of the iceberg as far as vendors go, so we'll be busy interviewing even more businesses in the coming weeks.  Next week, we're off to Bend to interview some companies there.  We'd like to sleep and rest our summer away, but we've got more work ahead of us.
If you'd like to follow our progress and see who we are interviewing next, you can follow us on twitter @orfilminterns.  And keep an eye out for our finished videos to begin rolling out in September.
Sabrina Gimenez
Oregon Film Summer Intern