Greg Knowles from ATI in Bend, OR
Yesterday's Season 2 kickoff event at the stages of "Grimm" was a great time for all to celebrate the fact that several hundred Oregonians are hard at work making the first of 22 episodes for the new season.  It was also a great opportunity to feature several local vendors who have benefited in many different ways because of "Grimm" and other projects like "Leverage" and "Portlandia".  While visiting the sets of both "Grimm" and "Leverage", Governor Kitzhaber has remarked several times about the film and television industry's great use of the local supply chains.  Yesterday at the kick off a few of those small business owners were present to tell their stories.  One of my favorite stories came from Greg Knowles who owns ATI in Bend, OR.  ATI makes industrial electric cabling for many different types of industries.  Two of his clients are Hollywood Lights and Pacific Grip and Lighting in Portland.  Thanks to the influx of orders from these two vendors, Greg has put several Bend residents on his payroll to meet the demand.  Hollywood Lights and PGL would not have made those orders at ATI were it not for the increase of film production here in Oregon.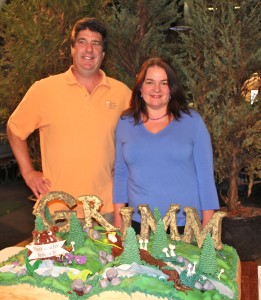 Other vendors in attendance included Steve and Dave Besaw from 52nd Avenue Hardware, Michael Koerner from Koerner Camera, Doug Boss from PGL, Lauren Henry from Talented Animals, and Dave Etchepare from Dennis' 7 Dees.  Did you think all that greenery on "Grimm" was in nature?  Well not exactly.  "Grimm" spends a tremendous amount of money on both plants and a crew to set up those plants.  What's great for Dennis' 7 Dees is that they are rentals!  They get the plants back at the end of the show.  Dave figures that he gets between $20,000-$30,000 of rental income every year from the film industry.
There are many more great stories about local vendors all over the state benefiting from film and television production in Oregon and over the next few months we hope to tell these stories.
-Vince