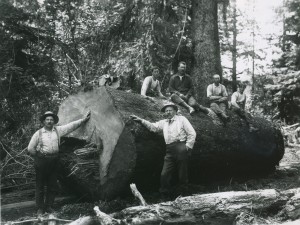 The process that delivers the furniture into our homes is often as grim as the process that delivers the food onto our plates. Aerial vistas of butchered landscapes look like ecological crime scenes, the brown swathes of mowed hillsides replacing the chalk outlines. The murder weapons drip with water instead of blood, freshly bathed for the next sanctioned slaughter. The morbid din of strained cedars slit at their mammoth bases, tipping over, their broad tops exploding on impact could just as easily have been confused with an animal's death throes.
The kinetic bowels of the Pacific Northwest cedar mills cloister a volatile and highly competitive bureaucracy of shingle weavers, sawyers, packers, pilers, and movers with hands that evolve to house one-track minds of their own. It's hard to find a hand that is whole; the hands are slowly shorn in time to resemble those of baby dolls. But apparently it doesn't take many fingers to play a game of poker, or to drink a jug of whisky, or to pick another fight. The manner in which hand to saw dance can often resemble the game of splaying one's fingers across a wooden surface and seeing how fast a blade can strike the spaces in between without cutting the flesh.
The relationship between loggers and the woods is both captivating and horrifying, documented in both eloquence and brutality in Charles Gustafson's Cuts and Ron Finne's Natural Timber Country. In Cuts, Mr. Gustafason let's the resident workers define their hardened livelihoods in their own words and mutilated limbs, bringing the viewer so close to the industrial blade, hands will surely find a place to cower. In Mr. Finne's Natural Timber Country, the changing culture of logging is gracefully detailed through a richly presented history of logging from the second half of the 19th century and coupled with interviews, recordings, tales, and songs from the people for whom served as the lifeblood of the industry.
These two films screen together in one 88-minute program as part of the Film Center's Essential Northwest series—a pay-what-you-will-night that encourages the Portland community to see films plucked from the NW filmmaking vault. Professor Stephen Beckman of Lewis and Clark College and Director Ron Finne will discuss Natural Timber Country and talk about life in the early logging camps.
ADMISSION: PAY WHAT YOU WILL (tickets available at the door)
Location: The NW Film Center' Whitsell Auditorium in the Portland Art Museum, 1219 SW Park Avenue
More at: http://www.nwfilm.org/screenings/41/429/