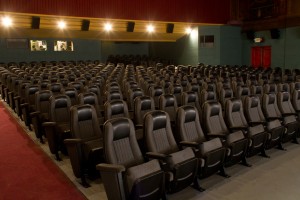 The new seats have been installed in the main auditorium of the Hollywood Theatre! We've also repainted, and replaced the curtains in the theater. These changes are in addition to our new sound system and new screen. A huge thanks to everyone who supported our seat campaign! We never could have accomplished this without you.
We're extremely excited, and we have some great films and events in the next few days to experience in this auditorium:
Friday Jan 20 at 7:30pm – RED DAWN IN HECKLEVISION
Friday Jan 20 at 10:00pm – PORTLANDIA
Saturday Jan 21 – Sunday Jan 22 at 3:15pm, 5:15pm, 7:15pm and 9:15pm – CARNAGE
Monday Jan 23 at 7:30pm – SATURDAY MORNINGS AT NIGHT
Tuesday Jan 24 at 7:30pm – Kung Fu Theater presents EASTERN CONDORS (only known 35mm print!)
Monday Jan 23 -Tuesday Jan 24 at 9:45pm – DRIVE
And today we started on removing seats in one of the upstairs auditoriums!
(photo courtesy of John Keel)