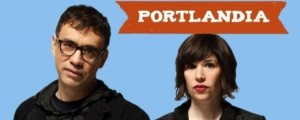 Today IFC announced a six city tour for a live "Portlandia" show. It's a natural addition to this budding franchise.  Today's announcement mentioned that the live show will include special sneak peaks to season 2 as well as behind the scenes stories about the creation of the characters in the show.  Given Fred and Carrie's rich musical background let's hope they throw a song or two in there as well!
The tour begins in Portland (of course) on December 27 with stops in Seattle, San Francisco, Los Angeles, Chicago and finally New York (2 shows).  Tickets go on sale tomorrow so be sure to go to the website to get your tickets.
Without a doubt the show is building towards a bigger and better second season.  Here's to hoping the show is around for years to come so the live shows become an annual habit!