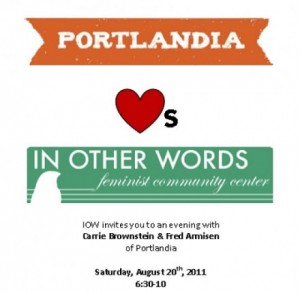 The point of "Portlandia" may be to lampoon the more eccentric facets of its namesake city, but that doesn't mean that there isn't an intense amount of love behind the jokes. Indeed, stars and co-creators Carrie Brownstein and Fred Armisen took part in a benefit August 20th for In Other Words – a non-profit bookstore on Northeast Killingsworth Street you might recognize from the Portlandia-verse as the Women & Women First bookstore of Season 1. The sold-out fundraiser was to support the bookstore's transition and expansion into becoming the In Other Words Feminist Community Center. As covered by Kristi Turnquist for the Oregonian, 100% of the proceeds went to the organization.
This isn't the only instance of Oregon-based productions giving back to communities and non-profits around the state. Meek's Cutoff held a benefit screening for the Oregon Cultural Trust in March at the Historic Elsinore Theatre in Salem. The River Why, which filmed in the Portland area and Wilson River in 2008, will be hosting a similar screening at the Hollywood Theatre in Portland on September 9th to benefit the River Network.
When discussing the benefits of drawing film and television projects to Oregon, the economic angle is the one most often touted. And this is for a good reason: the direct and indirect impact on Oregon's economy from productions is projected to be over $220 million for 2011 alone. With all that attention, it's easy for the charitable aspects of the industry to slip under the radar and for us to forget (or not realize) that nearly all projects give back to the communities or non-profits they interact with over the course of their stay in the state. That's one of the great things about the film industry: it's not isolated to what occurs on set but also manages to spread into surrounding communities for the benefit of us all.
Written by Lindsay Harrop.
As an intern with the Oregon Governor's Office of Film & Television, I get to observe Oregon's film industry from a unique angle. Over the course of the summer I'll be writing periodic pieces about the exciting cinematic endeavors occurring across the state and how the film industry impacts Oregon (and vice versa).