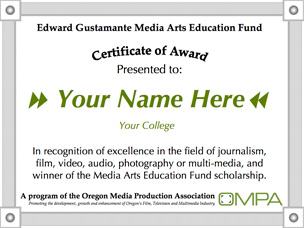 Media Arts Education Fund Scholarships
Intel Grant offers $2000 student opportunity
Students pursuing careers as media professionals have more opportunity to fund their studies with the help of scholarships from the Oregon Media Production Association's Edward Gustamante Media Arts Education Fund.  The Fund's objective is to encourage excellence in Oregon's media production industry by providing financial assistance to those expanding their education in a media related field.  The Media Arts Education Fund offers scholarships typically ranging from $300 to $1000 to Oregon students working in or studying journalism, film, video, audio, photography or new media.  One category, the Scholastic Program scholarship, is awarded to programs serving high school students rather than to the students themselves.
Major new award announced
Since the fund's inception in 2005, scholarships have been awarded in three categories: Individual Educational, Project-Based and Scholastic Program, with funds supported by OMPA members and the Final Cut Classic golf tournament.
Thanks to a generous grant from Intel, OMPA offers a fourth category this year: the Digital Media Commission
Intel seeks new ideas for experiencing, combining and interacting with personal digital media.  They have asked OMPA to field a group of creative digital media students and their academic advisors to experiment with digital media products, and deliver projects to help vision what a personal digital media experience of the future may look like. The selected students will be encouraged to push the boundaries of a typical consumers experience.  Students will be required to have access to their own video editing and image manipulation tools for producing their final project.
Unlike the existing three categories of the Media Arts Education Fund scholarship, applicants will be nominated by their professors or academic advisors from accredited digital media programs at Oregon colleges.  As with the other MAE scholarships, applicants will then be asked to submit a portfolio and written application.   Those awarded the Digital Media Commission are required to attend meetings (one at Intel campus in June, one at the OMPA golf tournament in July), write and submit a journal of their explorations, and present a final project in September that synthesizes their exploration.
If all deliverables are submitted as required, the total stipend for the selected students is $2000 each, and an additional $500 is awarded to each student's digital media professor or program advisor upon presentation of the project.  Eight students will be selected.  The stipend is intended to offset the costs that may be associated with the time and materials needed to complete the project.  Money not spent on the project will be the students' to keep.
Application deadline is May 30. For more information on the scholarships, please go to the www.ompa.org.  Recipients for all scholarship categories are celebrated at the Final Cut Classic Golf Tournament on July 23rd.
About Final Cut Golf
The Final Cut Classic was founded in 2001 by Edward Gustamante as an entertaining approach to fundraising for OMPA and the Media Arts Education Fund. The yearly event brings Oregon's creative industries together to support a good cause.  For more information or to register for the tournament, see www.ompa.org.
OMPA is the professional association for Oregon's film, television, commercial and new media production industry.  Since its founding in 1982, OMPA has educated and informed a diverse membership about important industry news, advocated for economic development, and provided forums for networking and professional development.