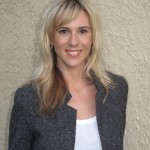 Kerry Herta, the founder of Colour Box Makeup Studios who will be teaching a pair of upcoming artist workshops in Portland, has been nominated for a 2011 Daytime Emmy Award.
Herta, along with her team, was nominated for her work as Makeup Department Head during All My Children's conversion to the HD format in early 2010.
Before the winners are announced June 17, Kerry will be teaching two workshops in Portland, both of which are designed for aspiring film/TV makeup artists.
The workshops – the five-day Makeup Artist Boot Camp and one-day Airbrush Seminar – will be held June 1-6 and are limited to 12 aspiring artists, all of whom will be trained by Herta and complete assignments using live models and industry-leading products and equipment.
For more information, visit http://www.colourboxmakeup.com.