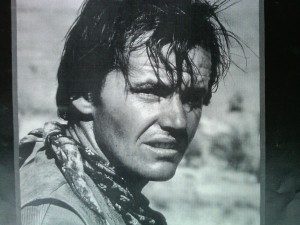 He was here in Oregon in the 60's; in the town that Stan Brakage called "the Poetic Cinema Capitol of the World, Eugene, Oregon." He arrived on the scene like his character in "One Flew Over the Cuckoo's Nest:" Randall Patrick McMurphy, to tell us we weren't crazy, to legitimatize what we were trying to do with our 16mm cameras, and over the years, to help us get a break in the business.
My friend Ron Vidor, a Cinematographer who worked as a cameraman on "Five Easy Pieces" said that in 1969 Jack and the rest of the cast and crew were just traveling through on I-5, when Director Bob Rafelson saw the Eugene Denny's Restaurant. Within minutes they had permission from the manager to shoot the classic "chicken salad sandwich" scene with Karen Black and Lorna Thayer, the Waitress.
A year later Jack was back in Eugene, directing and producing "Drive, He Said" from his own script, hiring over 30 locals in speaking roles, including Poetic Cinema Filmmaker Ulysses Cheng, who along w/ Prankster Mike Hagen, gave me my start in film in the fall of 1969. He hired Skip Cosper to be his Assistant Director. Skip still lives in McKenzie Bridge, and he and I are still friends. Other cast members like David Norris, David Ogden Steirs, and Cindy Williams all went on to have decades-long careers in the business. My South Eugene High School classmate, Julia Anne Robinson, ended up co-starring with him in "The King of Marvin Gardens" in 1971.
On March 6, 1975 I really got a chance to talk to him on the set of "One flew Over the Cuckoo's Nest". He and Michael Douglas had rented neighboring condos in the South hills of Salem, and lived there for several months while filming. He invited me to meet Hal Ashby and his former girlfriend, Eugenean Mimi (Mireille) Machu, whom he later helped to become an editor. Over the course of the shoot, Jack also became a fan of "Cinema 7", a Eugene-based cinema art house I was a partner in, and said it was one of the finest in the world.
After he left, I called him about possibly starring in an Oregon script that Portlander Michael Murphy was producing. After Jack's reader Annie had read it, and loved it, he invited Michael and I down for a meeting. (This is how I first became hooked on Screenplay Development, packaging talent for some 25 filmmakers over all these years.) That night he invited me to a dinner he was hosting for director Bernardo Bertolucci, and then to stay at his house in his daughter Jennifer's room, which is now called the "Art Garfunkel" room. I was privileged to stay there several times while I was in L.A.
Rumor had it that Jack would sneak into town over the years to dine at Eugene's eclectic "Country Inn." He bought the screenplay rights to Oregon Author Don Berry's "Moontrap" about an early Oregon Mountain Man. He attended the Premier for "One Flew Over the Cuckoo's Nest" in Portland, and one for the inmates and staff who worked on the film in Salem. He starred in "The Shining", partially shot on Mount Hood.
For all the loyalty, love and support Jack has given us filmmakers here in Oregon, I just wanted to say: Hey, Jack, Happy Birthday, and thank you for the film legacy you graced us with.