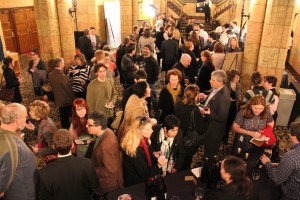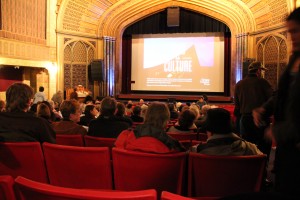 It was a great evening last night in Salem as the special screening of "Meek's Cutoff" was bigger than anticipated.  We're waiting on the final tally of ticket sales but we're expecting between 400 and 500 total tickets were sold for the event.  Prior to the screening we hosted a reception for several legislators, industry members, and cultural trust board members.  We were expecting about 10 legislators to come to the event but my last count was 16 including Senate President Peter Courtney and Speaker of the House Arnie Roblan.  All in all the mood at the reception was very positive and festive.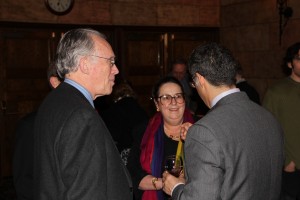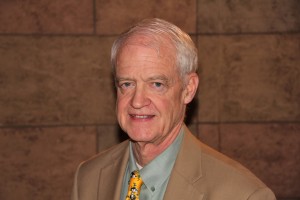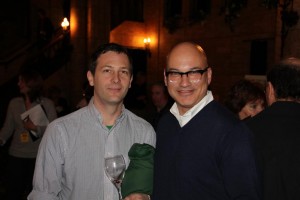 Prior to the screening I gave some opening remarks about "Meek's"  and our record 2011 year.  Yesterday we collected the call sheets of "Leverage" and "Grimm" and also called around to the other "OPIF" projects and found out that there were 642 people working on "OPIF" projects last night.  It would have been great to have them all at the theater but I am even happier knowing that they were working.   I then introduced Senator Betsy Johnson who gave a speech that really enthused the crowd.  Senator Johnson has always been a great supporter of the film and television industry and her speech only confirmed her support.  After Senator Johnson, the Director of the Oregon Arts Commission Chris D'Arcy spoke and introduced Representative Peter Buckley who provided some remarks and then introduced a last minute addition to the speaker's list – Senate President Peter Courtney.  Senator Courtney is well known as one of the most knowledgeable historians in the Oregon Legislature so it was an honor to have him introduce "Meek's Cutoff" which is steeped in history.
All in all it was a very successful event and the money raised for the Oregon Cultural Trust will be used in future efforts to benefit the state wide arts and culture institutions.
For more photos – check out our facebook page here
-Vince