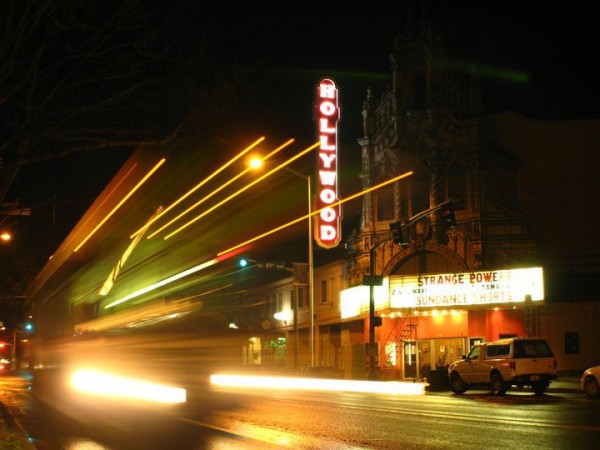 Film Action Oregon (FAO), the nonprofit owner/operator of Portland's historic Hollywood Theatre and supporter of Oregon's filmmaking community, is proud to announce an expansion in community partnerships that will boost programming, marketing, concession, membership and special event offerings to patrons of the Theatre.
"We see 2011 as a very exciting and opportunistic time for the Hollywood Theatre," said Doug Whyte, executive director, FAO.   "Long a pillar of the community, we believe that the Hollywood has untapped potential that can be reached by upping our collaboration with a host of diverse and influential local organizations. By broadening the Theatre's offerings, it can – and should – be both a hub of activity within Portland's filmmaking arena, and a sought-out destination for the general movie (and music) loving public."
"We are exploring all avenues of film programming and events that will allow the Hollywood to be a preferred destination by a wide-Portland audience on any given night," said Dan Halsted, head programmer/technical director, FAO.  "People can expect to see some fresh and exciting new films, as well as rare repertory titles, and have the opportunity to be part of some great special events that are being added to the calendar, thanks in large part to our growing community partnerships developed by our Director of Programs and Community Engagement, Justen Harn."
Expanded opportunities included:
–       Galen Huckins and Filmusik – Huckins is now an Artist in Residence at the Hollywood Theatre and beginning this summer his group, Filmusik, will use the Hollywood as its home base for presenting a new series of live soundtrack and mixed media performances at the Theatre. Filmusik works with sound films by removing and re-imagining the soundtrack, collaborating with film studios to get original film elements for their shows.  Sometimes they re-create the entire sonic world from scratch with local actors dubbing a foreign or animated film on stage and foley artists creating the sound effects.  They've had local Electronica artists score 1950′s sci-fi, full choruses singing and chanting through desperado westerns, any genre of music and film is fair game. Eventually Filmusik plans to have a weekly entertainment offering at the Hollywood Theatre.
–       The PSU Social Practice MFA program and the Hollywood Theater are proud to announce a new partnership. Artists from the PSU Art and Social Practice Program will create projects, events and programing in relation to the goals, space and neighborhood of the Hollywood Theater in an effort to bring awareness to the mission of the theater as a non-profit as well as to revitalize the Hollywood as site of creative production and community in Portland. This ongoing collaboration will include designing limited edition movie posters, artists in residence, neighborhood documentaries, curated screenings, discussion series, themed events, musical pairings and more. In addition, as part of the Open Engagement conference this May the Hollywood will play host to artist Fritz Haeg who will create a new project that will be situated at the theater. The Art and Social Practice MFA Concentration at Portland State University, led by Harrell Fletcher and Jen Delos Reyes, educates and activates students to develop and utilize their artistic skills to engage in society and transcend traditional studio art paradigms. Students learn about a variety of working artists and non-artists who have engaged in civic activity, and apply their knowledge and abilities to initiate, develop, and produce participatory projects with the public– individuals, groups, and institutions.
–       BridgePort Brewing and the Hollywood Theatre are teaming up to present a three-day music and film festival with special guest curators including Carrie Brownstein of the IFC TV show Portlandia and the bands Sleater-Kinney and Wild Flag. Festival dates are May 12-14.
*Beer and cider are now for sale at the Hollywood, and all-ages are still welcome.
–       Jackpot Records – Jackpot Records and the Hollywood Theatre are teaming up to present a monthly film series of unique and obscure films. This is an expansion of the relationship that brings the annual Jackpot Records Film Festival to the Hollywood every year.
–       Grand Detour is now hosting regular screenings at the Hollywood.  A Portland collective that presents innovative video and media-related artworks from local, national and international touring filmmakers and curators, Grand Detour is a haven for underground artists, digital methods classes, installations, and community discourse.
–       Grant High School and the Hollywood Theatre are collaborating to develop and offer educational opportunities to students. Students will utilize the Theatre for screenings and FAO will be available for production training.
–       Hollywood membership benefits have changed to include $4 movies, free parking in the Whole Foods Market parking garage, and free popcorn!