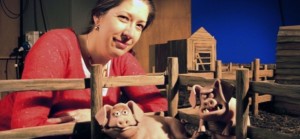 Fans of the NBC comedy Community have been looking forward to tonight's Holiday episode, in which the show's cast is transformed into holiday-special-style stop motion characters.  Where did the producers of Community look when they were searching for someone to create these Rudolph The Red Nosed Reindeer-like stop motion characters?
According to the Oregonian's Kirsti Turnquist, the producers turned their eyes north to Portland, where they found animation specialist Teresa Drilling.  Drilling, who won an Emmy in 2008 for her work on Creature Comforts, worked "around the clock" for two months on the NBC comedy… and she also took four Art Institute of Portland students along for the ride!
Most of them had taken like three or four classes with me, so they were just perfect because I knew they had all the basics we would need as skill sets, and they had great attitudes. I knew they'd be surprised that they were able to be right up to speed. It was just the most perfect combination of circumstances ever, it was like a win-win-win." Read the Article here….