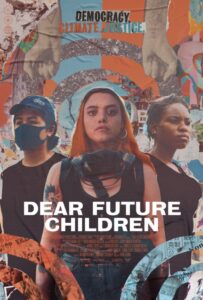 In our 
Monthly Film Series,
we will show a variety of German language films – from Germany, Austria and Switzerland. On the
2nd Tuesday
 of each month, audiences will now have a chance to see these films on a regular basis at the 
CLINTON STREET THEATER
. (Children movies will be playing on Sunday afternoons – please check our website.) 
All films are with English subtitles.
TUESDAY, May 9, 2023 – 7:00 PM
Germany/ Austria/ UK  2021, 89 min
Directed by Franz Böhm
With global protests on the rise, DEAR FUTURE CHILDREN is a film about the new generation at the heart of this seismic political shift. We will watch as Rayen protests for social justice in Chile, Pepper fights for democracy in Hong Kong and Hilda battles the devastating consequences of climate change in Uganda. Facing almost impossible odds and grappling with the staggering impact of their activism on their personal lives, we will be asking these three young women why they keep fighting.
Dear Future Children is a German-UK-Austrian co-production led by an award-winning team from fifteen countries. We are a young and tight knit group working collaboratively to overcome challenges and achieve our goals. We have a proven track record of making films about social issues, underrepresented communities, and those fighting a stronger power to facilitate change. Our previous films have been screened at multiple festivals around the world including screenings at the 'Berlin International Film Festival' and the 'European Film Awards'.  This project is backed by a team of committed professionals who are giving their all to make this film as powerful as it can be.
FESTIVALS/AWARDS2021
Seal of Approval 'highly recommended'
Audience Award – 42 FF Max Ophüls Preis Festival
28 Hot Docs across Canada online
CPH:DOX
RETHINK Film Award – 20 NaturVision FF
Film Music Award for best score – 20 NaturVision FF
FFSF – Fünf Seen Filmfestival
One World Human Rights Film Festival, Berlin
27 Filmschau Baden Württemberg
You can watch the trailer here:  DEAR FUTURE CHILDREN (Official Trailer) – YouTube