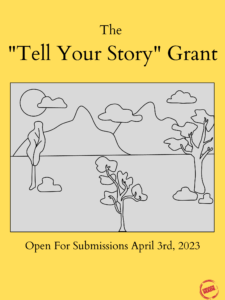 Oregon Film through its Creative Opportunity Program is offering two grants of $15,000 each to Oregon-based filmmakers or filmmaking teams. The grant is designed to support a non-project-specific, virtual residency, allowing filmmakers to develop, explore, and shoot the stories they want to tell in any film format they choose. While all applicants are welcome, there is a special emphasis on those from Oregon's beautiful rural regions and the BIPOC community, including but not limited to Latina/Latino, Asian American, and Pacific Islanders.
The grant is intended to support early or mid-career filmmakers looking to move forward in the film, media, and entertainment fields in Oregon. The grant offers a variety of resources to aid in career development, including connections, insights, experience, access to physical office space (at the Oregon Film Office, if needed), and consultations with strategic supporting and contributing sponsors. These resources will be available to the winning creators for the 2023 calendar year, with continuing consultations available as needed beyond that.
The filmmaker residency grant can be used for any non-project-specific creative purpose, allowing filmmakers to explore and develop their craft without being tied to a set theme. A final required project report will update on the progress, benchmarks, and creative outcomes pursued during the residency period. Monthly check-ins will also be offered to ensure adequate support is given throughout the residency period.
Overall, this grant offers a valuable opportunity for filmmakers to explore and develop their craft, connect with resources and mentors, and move forward in their careers in the film, media, and entertainment fields in Oregon.
You can find out more about how to apply for the Tell Your Story grant here.
Applications open 9 AM PST Monday, April 3, 2023
Deadline for applications: 5 PM PST Friday, May 5, 2023
Aiming to notify the winner by June 15, 2023
Questions and Submissions should be sent to: [email protected]