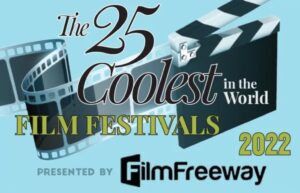 We are excited to see that the Eastern Oregon Film Festival (EOFF) has made MovieMaker Magazine's"Top 25 Coolest Film Festivals in the world" list!
Here's what they had to say: Every film festival has films, but how many can offer an experience like this? "The programming team took us all out to the woods to drink White Russians and throw hatchets and shoot BB guns," says Jim Cummings. "We ended up attaching an inflatable canoe to a 4-Wheeler and sledding with all of the filmmakers. There are moments from Eastern Oregon that are seared into my memory as the high-water mark of how fun a festival can be." This year's 13th annual edition aims to open at the historic Liberty Theater and include virtual presentations and satellite screenings throughout the rural Grande Ronde Valley. "This year's hybrid event will see to it that hot spring huddles, hatchet throwing and Albino Bumblebees are, again, key components for the visiting filmmaker experience." What's an Albino Bumblebee? It's the festival's signature drink, made with whiskey, raw honey, and fresh warm goat's milk. 
The EOFF takes place every October in La Grande, Eastern Oregon.