The Portland Film Office, in partnership with Travel Portland, has announced the recipients of its 2022 Portland Post-Production Grant Program. Selected from a pool of  23 applicants, four local filmmakers will receive $7,500 each for their respective projects.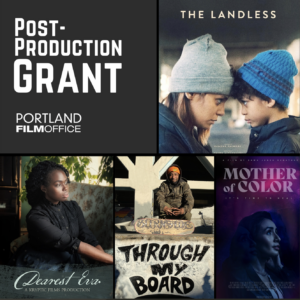 The grant program is intended to support the professional development of local Portland filmmakers by providing funds for such activities as sound, picture editing, color matching, color grading, closed caption, tech specs for distributors, and music clearances using local post-production houses.
Grants encourage the completion of a local feature-length film and position local producers to build toward larger, more resourced productions. Past recipients of the Post-Production Grant have included Sophie Jones and Clementine, both picked up by Oscilloscope Studios for world-wide theatrical release and streaming services.
Thalia Martinez, manager of the Portland Film Office, said, "We were inspired  by the work of so many talented filmmakers this year and the creativity and diversity they represent both on and off the screen. The Portland film industry is fortunate to have such an incredible array of local talent."