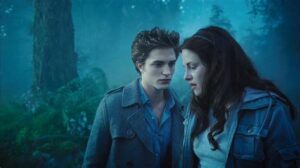 Oregon plays Washington in this first installment of the Twilight saga coming on June 6 as part of the #OregonMade Film Series at The Hollywood Theatre.
St. Helens, Silver Falls SP and Ecola SP double for the Washington forests and coastline around Forks. It's been about 15 years since the couple that recently caught accolades for playing Princess Di and The Batman came to our state to lay the ground work for that difficult choice between Team Edward and Team Jacob. And just to be authentic – it's on 35mm print. Come experience the magic because when the saga moved to British Columbia it lost all of its…well…magic.
Get your tickets here.