We're almost LIVE! #MSFF2021!
Get Ready with Important Festival Supplies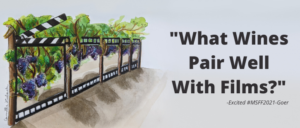 An excellent question! Being in Willamette Valley wine country, we here at MSFF love a good tipple of vino. It can complete a meal, spur lively conversation, and delight the senses…just like film!
You've browsed our film listings and you've bought your passes and tickets (if not, no fear, you can buy them here), and now you're ready to watch some amazing films! But wait: essential supplies are still needed to ensure you fully enjoy our first all virtual festival. Stock up on popcorn of course, call dibs on your favorite comfy seat, and plan out your #MSFF2021 adventure. And of course: don't forget the wine!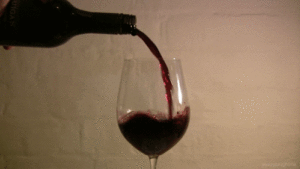 Behold… our recommended wine pairings to accompany your films by screening:
Drama – an Oregon pinot noir: the Goldilocks of wine grapes. Temperamental grapes, sensitive and finnicky to make, absolutely delightful to drink. We're loving the 2016 Reserve Pinot Noir from Yamhill Valley Vineyards, just a hop, skip, and a jump from us here in McMinnville!
Comedy – a light & fruity white blend, enjoyable and doesn't take itself TOO seriously, from our winery friends throughout Oregon.
Suspense-Horror – something dark and brooding. A bold red blend would do the trick, but try not to look it directly in the eyes! We love the 2017 Oregon Roan from Laurel Ridge, a blend of Syrah, Cabernet Sauvignon, and Zinfandel.
Environmental – a wine with "earthy" flavors, and/or made naturally without additives or filtration. Minimal intervention with these wines; the winemakers let the grapes speak for themselves. Our pick is the 2018 Denison Cellars Willamette Valley Pinot Noir, unfined and unfiltered, that represents this diverse wine region.
Documentary – an aged gamay noir, from an historical Oregon winery, which tells the tale of the Oregon Trail – and the storied history of our local wine industry. A Gamay Noir from the nearby Ribbon Ridge AVA would be the perfect complement to thoughtful documentaries.
Native American – a beautiful syrah with earthy tones, wrapping you with warmth, connecting you to the land from whence it came. A Syrah from Southern Oregon's Rogue Valley AVA would fit the bill!
Experimental – an unexpected blend of different red grapes, clones, or vineyards. A winemaker's wacky idea, that often turns out amazing – just like experimental film. Our choice: 2017 Björnson #21003 Pinot Noir, a "field blend" of all of their planted clones of pinot noir in the nearby Eola-Amity Hills AVA.
Animation – a playful, energetic sparkling wine, delighting your tongue with its effervescent brightness. Our choice: 2017 Benza Brut Sparkling Wine from the newly-approved Laurelwood AVA in the Willamette Valley.
Tell us what you'll be drinking during #MSFF2021 on social!
Instagram: @macfilmfest
Facebook: @mcminnvillefilmfest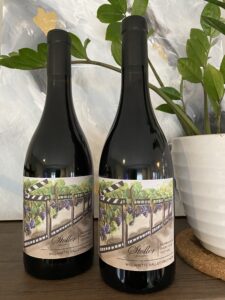 Celebrate our 10 year anniversary with this special label Pinot Noir from Stoller Family Estate! By purchasing this beautiful bottle of Willamette Valley Pinot Noir, you are contributing to the future of the MSFF.
$38 per bottle
Purchase in-person from our partner The Gallery at Ten Oaks, located at 801 SW Baker St, McMinnville, Oregon.
Need it shipped? Email James at Stoller Family Estate, and he will make the arrangements for purchase and shipment!