The 2020 POW Film Fest – Local Edition will take place virtually Thursday October 1st! All proceeds from the ticket sales of this event will benefit The Clinton Street Theater.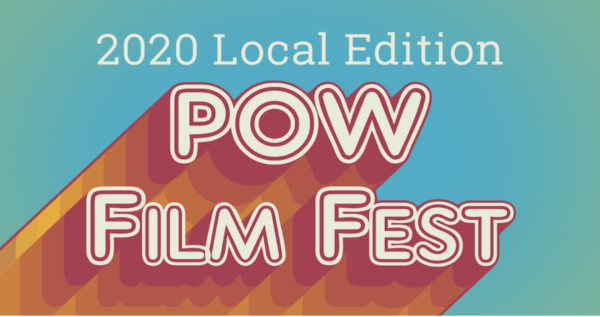 POW Film Fest is Portland's premiere film festival showcasing films directed by women and non-binary filmmakers. Now in its 13th year, the festival features the work of some of today's top directors, while honoring the true pioneers and recognizing the next generation of leading women and non-binary filmmakers. Over the years POW has striven to encourage thoughtful and engaged discourse of the female perspective while heralding the need for greater parity in the film industry through the keen discerning eyes of women and non-binary film and media makers. POW was created, in part, to celebrate women in their quest to thrive and grow in the film industry.
This year, POW Film Fest will focus on women and non-binary filmmakers from the Portland Metro area. This excellent curated program of short films in a variety of genres, will highlight the work of Alberta Poon, Dawn Jones Redstone, Cambria Matlow, Aileen Sheedy and many more. POW Film Fest will be partnering with Signal Parade to bring forward a live virtual event available to our local Portland audience, as well as nation-wide. A full list of films is listed below and tickets can be purchased via Eventbrite. More details will be available via www.powfilmfest.com in the next few days.
"I am thrilled that we are able to move forward with the 2020 POW Film Fest that was originally scheduled for last March. Although we were hoping to celebrate these talented local filmmakers in person, I am happy that we have this opportunity to present the programs to an even wider audience virtually. We are also excited to be raising funds for a local theater that has been so supportive of our festival over the years." says POW Film Fest Executive Director, Tara Johnson-Medinger.
In addition to the annual festival, POW Film Fest's other projects include: The POWGirls Media Education Program, POWtv and the directors zine.
The 2020 POW Film Fest – Local Edition is supported by: The Faerie Godmother Family Fund, Koerner Camera Systems, Oregon Film, The Portland Film Office and REX Post. POW Film Fest is produced in association with The Hollywood Theatre. 
2020 FESTIVAL SCHEDULE – FULL SCHEDULE
Pre-Screening opportunity:
With the Wind and Stars – Rachel Bracker – 20:00
In order to provide our audience the optimal viewing experience for this 360/VR film we will be providing a link for you to enjoy this film prior to our live event on October 1st. Director, Rachel Bracker will participate in the Q&A following the "Shorts I" screening.
Thursday October 1, 2020 – 6:00pm PST
SHORTS I
Karaoke People – Jen Tate – 8:27
No More Dope Parties – Cambria Matlow – 29:00
Happenstance: The Funeral – Brandy Machado – 5:51
It's Lit – Alberta Poon – 4:20
Magnificent – Dawn Jones Redstone – 11:49
Bodies Like Oceans – KC Cory – 13:00
Followed by Q&A with filmmakers
INTERMISSION
Thursday October 1, 2020 – 8:15pm PST
SHORT II
Working Lunch – Shilpa Sunthankar – 8:00
Candy Corn – Molly Preston – 5:06
Audreality Presents: Portland Century Relay – Audrey Rose Goldfarb – 12:00
Self Worship – Asia Brown, Che Che Luna- 6:47
Fanatico – Hannah May Cumming – 18:32
Love Biscuit – Ashley Mosher – 12:00
Legend of Stella – Aileen Sheedy 17:56
Followed by Q&A with filmmakers