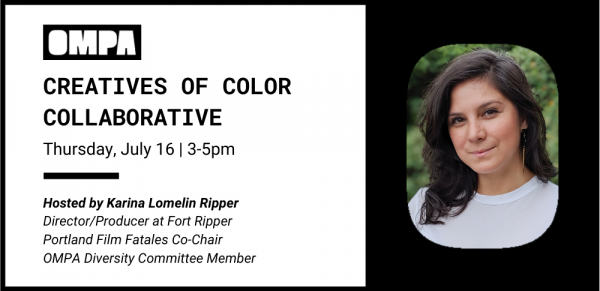 Thursday, July 16 | 3-5pm | RSVP for Zoom info
Tomorrow OMPA's virtual Creatives of Color Collaborative will be hosted by Karina Lomelin Ripper. Karina is a first generation Mexican-American and an independent director and producer. She is also the co-chair of the Portland Film Fatales. 
You may have seen Karina's work with Fort Ripper for clients like Google, Facebook, and Nike; or shows for National Geographic's Destination WILD, The Discovery Channel, HBO Films and A&E Films. 
Come ask questions, get advice, and share whatever else is on your mind in a private, BIPOC-only space.
*NOTE: The virtual Creatives of Color Collaborative events are a safe, private space for BIPOC (Black, Indigenous, and People of Color) to talk openly. While we appreciate allies, please respect this need.