Today POW Film Fest is launching POW TV, a virtual viewing station for discovering stories told by women and non-binary filmmakers.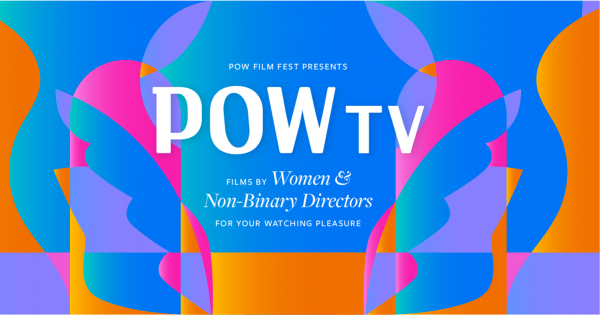 The past few months have provided many of us with the opportunity to watch a lot more films and tv series. Most often we turn to the big streaming platforms for this entertainment, but more and more of those big platforms are becoming saturated with the "bad tv" that was once the fluff of networks and cable tv. POW feels compelled to provide an alternative to the played out motto: Netflix and Chill, by offering great films that have finished their festival run, but that not all of us have had opportunities to see or learn about.
The first 31 films in their curated collection are exceptional shorts screened over the last two years of the POW Film Fest, or films they wanted to screen but didn't have room for. These films feature women and non-binary filmmakers from across the world, including the United States, Great Britain, Turkey, Sweden, New Zealand, Italy, Israel, Greece, Czech Republic, Canada, Australia and Argentina. More films will be added to the POW TV collection each week. 
We hope you find the time to watch some of the great films now showing. We would also love to receive your constructive feedback and/or kind comments and suggestions. There is still have a lot of kinks to work out, and soon they hope to expand beyond the boundaries of the current website host to a site that will better suit their own aesthetic and improve the screening experience of the audience.
Besides the awesome films & filmmakers you will discover on POW TV, special thanks goes to those who donated their services to make POW TV look sound awesome:  India Myers for the beautiful logo design, Luck Day for the great trailer, Stefan Harder for the motion graphics, and Alex Lilly for the perfect trailer music.