The Berlin Bride was very fortunate to have premiered with a live audience in Germany and Chicago in November, and now, finally, Oregon filmmaker Michael Bartlett can share with us that the worldwide rights to his crazy little Portland – Berlin production has been acquired is premiering today on Amazon Prime with more countries to follow. Below is a commentary Michael put together that you that talks a bit about the journey.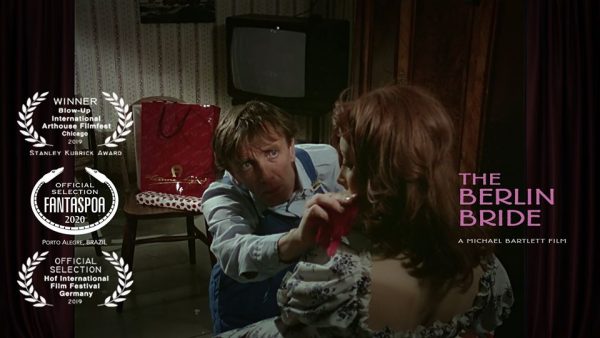 "A plan to complete The Berlin Bride began almost immediately after the House of Last Things premiere in Berlin. Little could we know that finishing this strange little movie, started so many years ago, would become a minefield of steady frustration, wildly inventive attempts, and last minute solutions. Films are restored all the time, but for us the process was both restoration, and more importantly, after more than 30 years, film completion.
The 16mm film stock we shot in Berlin with various cameras in the late 80's, and we used to complete The Berlin Bride, seemed at first lost forever, but was finally located and released back to me through the German Film Archive in 2013 while I was in Berlin for the premiere of House of Last Things. A digital transfer was created at Alpha Cine Labs in Seattle but it only revealed how damaged the material had become. Thousands of instances of dirt, scratches, and flicker had to be manually removed before we could even consider my quixotic plan to finally complete the weird little movie that was still very special to me. Two years later, we were ready to give it a try.
Our challenge was to integrate the 1980's footage with new footage (142 additional shots) filmed entirely in Portland, Oregon 2016 – 2018 — and to match seamlessly as possible the quality and grain of the original 16mm footage — and finally, to sound design the entire film — every footstep, every breath, every meow — and create a stereo music score in Portland, Oregon. In short, with 142 additional shots, a team of amazing Portland creatives more generous than I ever deserved — Tanya Groeneveld, Andrew Pool Todd,  Jake Buff, Michael Ferry, Taylor Baldschun, Melissa Hill, Mark-Antoni Friedhoff, Chel White, David K. Manuel, Adam Sager, Perry Quinn, and producer Rene Berndt  — we finally finished the strange little fantasy I started in Berlin before film school more than thirty years ago. I don't know that anything quite like this has been attempted before."