"As a filmmaker, sound engineer, editor, and producer, Frederick Wiseman is tireless in his pursuits and relentless in his exploration…" – ​Paris Review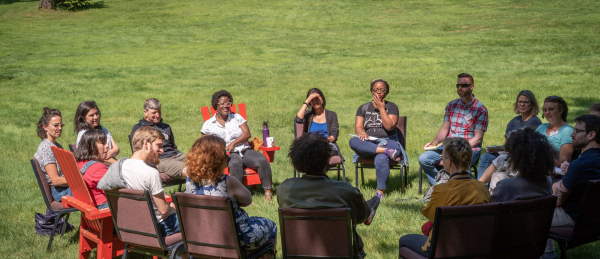 Oregon Doc Camp, a program of NW Documentary, gathers established and emerging documentary filmmakers at Silver Falls State Park for a four day retreat. The program attracts accomplished speakers from around the country, including last year's keynote, Laura Nix, whose short documentary ​Walk, Run, Cha Cha was nominated for a 2020 Academy Award. This year NW Documentary welcomes the legendary documentary filmmaker Frederick Wiseman.
Over the course of his career, Mr. Wiseman has won numerous awards, including four Emmys, a MacArthur Fellowship and an Honorary Award for lifetime achievement from the Academy of Motion Picture Arts and Sciences Board of Governors. ​His most recent films include ​At Berkeley​ (2013), which chronicles daily life at the University of California, Berkeley; ​National Gallery​ (2014), which explores the inner workings of the well known London museum; ​In Jackson Heights​ (2015), which examines a diverse community in Queens, New York; ​Ex Libris -​ ​The New York Public Library​ (2017), which goes behind the scenes of the famous library; and Monrovia, Indiana​ (2018), which centers around a small Midwestern town.
Mr Wiseman's attendance at Oregon Doc Camp marks a milestone for the program, and for its founding director, Jackie Weissman. "Frederick Wiseman has always been on top of my list for dream speakers. When we started this program seven years ago I couldn't imagine something like this would actually happen. One of the themes we always focus on at Doc Camp is how to sustain a career in this field, and Frederick Wiseman has mastered that part of the artist's dilemma. He's modeled a standard we all aspire to, and we're thrilled to have him share his accumulated wisdom with us at Doc Camp this year."
Mr. Wiseman's attendance is made possible by a generous contribution from Oregon State Parks. Registration for Oregon Doc Camp begins on February 25th, 2020 at ​www.nwdocumentary.org​.
__________________________________________________________________
Oregon Doc Camp will take place at Silver Falls Lodge and Conference Center
Thursday, May 14th – Sunday, May 17th
20022 Silver Falls Highway SE Sublimity, Oregon 97385
Applications for attendance may be submitted at ​http://nwdocumentary.org/doc-camp
For more information about attendance, press, or sponsorship, please visit http://nwdocumentary.org/doc-camp
Or contact: Director, Jackie Weissman at ​[email protected]